23-04-2008 23:14
This weekend saw an uprising of unauthorised squat related activities, including a squatting film night, banner drops, a new squatted social centre, public family fun day, a No Borders March, the occupation of Jacksons Wharf and a busted 'free' party. Check out this
summary of the weekends' events.
Up to 200 squatters and supporters followed a call for an unauthorised demonstration in the city centre from Manchester's No Borders group. Accompanied by a samba band (Rhythms of Resistance) and two soundsystems mounted on bike trailers. "With the cops not bothering to show up, we marched undisturbed from Victoria Station into the Northern Quarter, along Market Street and Kings Street , through Spinningfields into Castlefields."
The lead banner read FREEDOM OF MOVEMENT FOR ALL - DEFEND AUTONOMOUS SPACES. Hundreds of copies of the Mesho were given out to passers by. The Mesho was a squat themed spoof news paper was also distributed in other participating cities.
The aim of the widespread action was is to develop interconnections and solidarity between autonomous spaces and help create more visibility for them as a political movement. In the UK the scale of the actions were extensive. Fuller coverage is here.
(A summary of the weekend ) (Demonstration of squatters turns into mass occupation) (Pics of demo and mass action | Video of demo Stream or Download Mpeg1
Also on the subject of immigration and fighting gentrification Check this upcoming event.
Movement for Justice in El Barrio is a grass roots organisation of immigrant communities fighting against gentrification in El Barrio (East Harlem) 7.30 pm Thursday 8th May 2008 at the Town Hall Tavern, Manchester - more info
Read more >>
---
Manchester Free Spaces Feature Archive >&gt
26-01-2007 13:21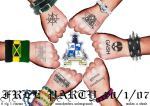 "I tried to help someone up who was on the floor, he was at the feet of a policeman with a dog snapping right at him, and was holding his leg and screaming. I went to help him out of the way of the dog and got hit from behind by a truncheon in the side of the knee and back of my leg 4 times before I could get out of reach." Alex - would be party goer.
Last weekend about two thousand party goers were attacked by police whilst attempting to attend a free party in the Manchester area. The A57 was closed for about 2 hrs when police forced party goers out of a warehouse and on to the streets. According to one first hand report the rave was already filling up by around 11pm, nearly half an hour before the police arrived, and the premises were protected under section 6 "squatters rights" due to it being the permanent residence of a small number of people.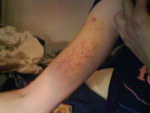 The police upon entry ignored this warning and proceeded to use extreme force on people who were showing no resistance and breaking no laws. This behaviour was carried out under supervision and instruction of the attending Detective Inspector. Several accounts confirm that people were beaten with police batons, bitten by Dog units for not moving fast enough and/or were thrown around by the police.
Outside the venue a large crowd of about 800 people had gathered outside in anticipation of the rave. It response the police saw necessary to form a line complete with riot units, and rush the crowd with both dogs and batons.
On Friday 26th a protest was held at Manchester Magistrates court to support a raver charged with affray. (see video below)
Reports and comments | Pictures of injuries and the night | Video of first hand reports at the protest on Fri 26th
Read more >>
---
Manchester Free Spaces Feature Archive >&gt
09-10-2006 22:14
Touring the UK this week
, 'i' the film expands on the explosive prequel,
"Eye of the Storm"
and examines the relationship between media and power as manifest by the worlds largest all volunteer network of media activists - Indymedia.
Further Links:
'i' The Film website
|
European tour schedule
|
Film reviews
|
Report and Audio from Nottingham Screening
|
Argentina Indymedia
|
Wikipedia on Indymedia
|
Indymedia at the Camp for Climate Action 2006
Read more >>
---
Manchester Free Spaces Feature Archive >&gt
14-02-2005 01:14
Residents of Hebden Bridge, West Yorkshire have opened a temporary "Pitt Street Social Centre", offering tea, cake, videos, workshops, a Free Shop, and a chance for residents to discuss how to stop council sell-offs and the "gentrification" of the former mill-town.
When the Pitt St building became the most recent of public buildings to be put on the market, frustrated locals asked Calderdale Council for time to put forward an alternative plan to keep it as a community resource. However, in their rush to make a quick buck, the Council steam-rollered opposition, and went ahead with the sale.
"Where has the money gone and who are the new owners? We've been asking questions but no-one seems willing to tell us anything. How dare our representatives continue to completely ignore our needs and views? It's just more council corruption." said Katrina, a local involved in the occupation.
This is the second occupation of a public building that has been sold off by the council, in the last year. For five days in April 2004, hundreds of local people were involved in the occupation of the old Hebden Bridge Tourist Information Centre, turning it into the People's Information Centre. And residents are well aware that other buildings are in line for possible sell-off, including the library and the council offices.
Read more >>
---
Manchester Free Spaces Feature Archive >&gt
20-04-2004 10:38
Local residents who took over a former Council building in West Yorkshire for five days over Easter have declared the occupation a resounding success. The residents occupied the former Tourist Information Centre in the Pennine town of Hebden Bridge.
The building has been handed to a developer to convert into apartment flats and a restaurant, rumoured to be part of the Harry Ramsden chain. The occupiers said they wanted to highlight the threat the former textile community is under from unsustainable development and soaring house prices. They opened a Free Shop, called "Freesources", offering tea, food, clothes, books and toys for free, stating "we believe that without profit, there is plenty for all." They also gave out "tourist information" such as "don't fly anywhere – it's destroying the planet! Take the train instead."
The locals opened the building to the public on the morning of Thursday April 8. Jim Brown, the centre's new owner, well-known in Hebden for turning a series of buildings into upmarket apartments, attempted to have them removed by the police. However the police acknowledged that the locals were legally "squatting" the building, and Brown's representatives left amicably after boarding up a window. "This conveniently supplied us with a dark room to show films during the daytime!" said an occupier.
Read more >>
---
Manchester Free Spaces Feature Archive >&gt
28-07-2003 18:17
Earth First! are hosting their annual Summer Gathering between August 13-17 on a beautiful site 'somewhere' in North Yorkshire.
The Gathering provides a much-needed space for all those involved in direct action in Britain, Europe and the rest of the world - and for all those who want to be involved in direct action - to meet and talk about what's been going on and what we're going to do next.
Ten years on from the first EF! Gathering, some are questioning the usefulness of the Earth First! network which is seen by some as a social club and as not expressing many peoples politics. Many people are saying change is needed.
In response to recent years' events, the content, workshops and discussions of this year's Gathering have been organised so that everything is up for discussion.
For constant updates on venue, events, directions and appeals, see the Summer Gathering website
Read more >>
---
Manchester Free Spaces Feature Archive | 2 comments >&gt