17-03-2007 20:41
The Congo Support Network held a demonstration on 13 March 2007 at Dallas Court Reporting Centre, Salford Quays, in opposition to the recent and continuing deportations of Congolese asylum seekers to war-torn DRCongo. It was attended by over 100 Congolese and Libyan refugees and supporters. To begin with everyone assembled in the road opposite the main entrance to Dallas Court before marching round to the back, where kidnapped asylum seekers are snuck out in blue vans to detention centres. Soon after, the crowd assembled at the entrance and the demonstartors held a banner completely across the doors.
The entrance to Dallas Court was then blockaded by the brave protesters, before being forced back by the police. The refugees chanted: 'SHUT DOWN DALLAS COURT!' and 'NO DEPORTATIONS!' throughout, along with many chants and songs in French. At around 1:30pm news emerged that Rosetta, a female Congolese asylum seeker who had had to 'report', had been kidnapped at Dallas Court while the protest was happening! In solidarity, the protesters announced that they would extend their protest and stay until Rosetta was released. They chanted for the next 2 hours and the atmosphere was electric. At one point the police attempted to arrest a Congolese man. As he was dragged off towards the police van the crowd swarmed around and dragged him from their grasp.
Full report | Close Down Dallas Court
Read more >>
---
Manchester Repression Feature Archive >&gt
26-01-2007 13:21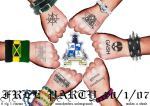 "I tried to help someone up who was on the floor, he was at the feet of a policeman with a dog snapping right at him, and was holding his leg and screaming. I went to help him out of the way of the dog and got hit from behind by a truncheon in the side of the knee and back of my leg 4 times before I could get out of reach." Alex - would be party goer.
Last weekend about two thousand party goers were attacked by police whilst attempting to attend a free party in the Manchester area. The A57 was closed for about 2 hrs when police forced party goers out of a warehouse and on to the streets. According to one first hand report the rave was already filling up by around 11pm, nearly half an hour before the police arrived, and the premises were protected under section 6 "squatters rights" due to it being the permanent residence of a small number of people.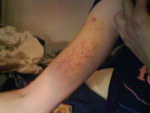 The police upon entry ignored this warning and proceeded to use extreme force on people who were showing no resistance and breaking no laws. This behaviour was carried out under supervision and instruction of the attending Detective Inspector. Several accounts confirm that people were beaten with police batons, bitten by Dog units for not moving fast enough and/or were thrown around by the police.
Outside the venue a large crowd of about 800 people had gathered outside in anticipation of the rave. It response the police saw necessary to form a line complete with riot units, and rush the crowd with both dogs and batons.
On Friday 26th a protest was held at Manchester Magistrates court to support a raver charged with affray. (see video below)
Reports and comments | Pictures of injuries and the night | Video of first hand reports at the protest on Fri 26th
Read more >>
---
Manchester Repression Feature Archive >&gt
09-10-2006 22:14
Touring the UK this week
, 'i' the film expands on the explosive prequel,
"Eye of the Storm"
and examines the relationship between media and power as manifest by the worlds largest all volunteer network of media activists - Indymedia.
Further Links:
'i' The Film website
|
European tour schedule
|
Film reviews
|
Report and Audio from Nottingham Screening
|
Argentina Indymedia
|
Wikipedia on Indymedia
|
Indymedia at the Camp for Climate Action 2006
Read more >>
---
Manchester Repression Feature Archive >&gt
20-04-2005 10:49
Irlam, April 8th. Workers arriving at the Caterpillar - Perkins site in Greater Manchester were surprised, first by a 30 foot yellow banner with an acrylic image of a Palestinian, head in hands, whose house is being demolished by a Cat bulldozer while an Israeli soldier stands guard.
The banner flew from a mound of grass along the private road to the security gate, the only entrance this morning. Management had hunkered down on red alert with police and dogs on site since 2 a.m. expecting an invasion under cover of darkness, for some reason.
Full Story | Caterkiller Blockaded in County Durham
Read more >>
---
Manchester Repression Feature Archive >&gt
23-03-2005 16:16
Following the screening of the BBC programme 'Asylum Undercover' which exposed the abuse of immigration detainees, around 50 demonstrators including refugees from many different countries, gathered at Dallas Court Reporting Centre in Salford to demand justice for asylum seekers and an end to arbitrary detention and deportation.
The Home Offices answer to the abuse seen on the BBC programme is to call yet another public inquiry concerning GSL (Group 4) which has taken over the contract from Wackenhut. This is the third enquiry into this company. The last inquiry into allegations of abuse at Yarls Wood concluded that most of the incidents exposed by an undercover journalist did happen, and yet GSL retained all its contracts to run Removal Centres. A contract to build and manage an accommodation centre for refugees was awarded to them only thirty days after the publication of the results of the inquiry.
Dallas Court is effectively a 'point of disappearance' for some, into detention and eventual deportation to potentially unsafe countries. Each time an refugee reports to Dallas Court, they fear being snatched, detained and deported.
Full report | Press Release for Dallas Court Demo | Anti-Detention Center Filmscreening and Talk
Read more >>
---
Manchester Repression Feature Archive >&gt
01-02-2005 18:18
"The only way we'll be able to stop this vile scheme is if ordinary people have the courage to stand up to the government." Manchester defy-ID representative
"We will be unable to access even basic services.., to drive ...[or] travel abroad unless we consent to this monitoring of our day-to-day lives." Manchester resident
Saturday (29th January) was a day called for action against the government's proposal to introduce identity cards and a National Identity Register in the UK. In Manchester residents opposed to the scheme visited the offices of PA Consulting Group and Siemens Business Services, two of a number of companies that stand to make considerable profits from the proposed scheme.
Meanwhile, out on the streets of Manchester to pass on information on the proposed measure and its implications were the The Ministry of Truth (honest gov). Street protests also took place in Liverpool , organised by a local defy-ID group.
'ID cards will not be used to build up a profile on innocent people', according to former Home secretary David Blunkett, yet scrutiny of the Bill reveals that a wide-ranging amount of data on people will be stored via the National Identity Register. The card will also be buttressed by a vast array of new state powers and criminal penalties including, for example, 'refusal to obey an order to register' which could be greeted with a fine of £2500.
Manchester - Protest Against ID Cards | The Ministry of Truth | ID Cards - Who Profits? | Identity Cards Bill - a brief guide | Liverpool Defy-ID Group Take Action | Defy-ID
Read more >>
---
Manchester Repression Feature Archive | 3 comments >&gt
08-12-2004 03:31
Ten people were arrested in Manchester city centre at the weekly picket outside Marks and Spencers'. On the 27th November police informed protesters that the picket would be illegal under the Public Order Act anywhere other than the Peace Gardens.
Defying the order, picketers began a moving protest outside the shop and were arrested alongside others who had ceased to actively protest, but were known to be 'part of the group'. Police have imposed bail conditions on some of those arrested on Saturday, although none of them have been charged with any offence.
10 Arrested at 'Banned' Picket | Appeal to defend the right to protest | Ban on the Right to Protest
Read more >>
---
Manchester Repression Feature Archive | 2 comments >&gt
23-11-2004 18:48
An investigative journalist and NUJ member, Mansoor Hassan fled Pakistan two years ago. There as joint editor of an Urdu language magazine Crime, he exposed corruption and criminal activities amongst the business community and within the political establishment itself.
After implicating a senior politician in an honour killing Mansoor was shot at and his house was burned down. He exposed a company owned by the Minister of Agriculture that sold adulterated pesticides and substandard cottonseed to farmers, which led to his being beaten up and his family threatened by the secret services and the police. A known criminal shot at Mansoor after he wrote an article about him.
But the UK government, while accepting that Mansoor had been subjected threatened, attacked and shot at, described these experiences merely as "anxiety" and claimed that he would be "perfectly safe somewhere else in Pakistan" and that he was "not at any on-going risk".
In Manchester Mansoor has worked as a volunteer with the British Red Cross and a refugee orientation programme.
Reports: Mansoor Hassan and Family Defence Campaign | Stop the deportation of Mansoor Hassan and family
Read more >>
---
Manchester Repression Feature Archive >&gt
13-05-2004 09:25
Manchester seems determined to shoot itself in the Northern quarter. The potential gagging of city centre venue Night and Day is another example of the city's cultural suicide.
How a long established city centre venue can come under threat from one noisy resident beggars belief, but read on to find out the full story of Night and Day
Meanwhile on the other side of town Free party possee collective take on a new lease of life with a massive party in the Lloyds metal warehouse just over the border in Salford. This tactical move put the party on the turf of Police whose priorities are not yet as set on ensuring cultural monoculture.
Read more >>
---
Manchester Repression Feature Archive >&gt
31-03-2004 19:14
The two Manchester protesters who covered a British Petroleum stand in fake blood during the 2002 CBI conference in Manchester's G-MEX appeared at the crown court last week charged with criminal damage. Their action addressed BP's greenwash as the company sought profit from catastrophe in the impending Iraq war and the Baku-Tblisi-Ceyhan pipelines project. The jury found them not guilty of 4 counts of damaging clothing but could not reach a unanimous verdict on the damage to the stand. Eventually the pair were found guilty of the charge.
The G-MEX incident proved humiliating for security organisers, coming two days after protesters successfully stormed the building. CBI chief Digby Jones told the press that he would ensure the pair received maximum punishment. The conference had been besieged by protests over corporate globalisation, equal pay for women, fire service pay and the Iraq war.
Read more >>
---
Manchester Repression Feature Archive >&gt