Stop Deportation | 01.06.2010 20:07 | Migration
As part of the Week of Action Against the Deportation Machine, and despite the bad weather conditions, a picket was today held at Communications House, one of London's two main immigration reporting centres on Old Street. The demo was called by Fight Racism! Fight Imperialism! and supported by other groups, including No Borders London and Stop Deportation. A similar demo was held later in the day at Becket House, London's other main reporting centre near London Bridge (see here).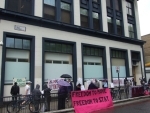 Protest against deportation at Communications House, 01-06-2010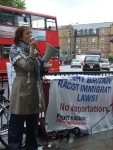 'stop deportation, stop detention'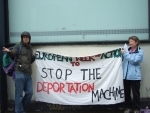 the demo was part of the Week of Action Against the Deportation Machine
Reporting centres?
Most asylum seekers in the UK are forced to 'sign on' at a nearby immigration reporting centre on a regular basis (daily, weekly or monthly). This involves finger-printing and re-activating their biometric ID cards. Many have to travel long distances and spend a significant amount of the already little money they are given on bus fares. There is no justification for all this hardship and humiliation other than the immigration authorities' wish to make life more miserable for refugees and migrants so that they give up and leave, as well as deterring others from coming here.
Many people have disappeared from these centres without warning. Most reporting centres are provided with so-called short-term holding facilities (STH), which consist of one or more secure cells. Most people detained in these 'holding rooms' are arrested without warrant in the adjacent reporting centre while signing on. A significant proportion are also brought in by snatch squads in prison vans, who are often based at these centres and operate in the surrounding area carrying out dawn raids.
Those detained are held in the STHs for lengthy periods of time, before being transferred to immigration detention centres around the country. The rooms often have no facilities to hold people overnight but this happens all the time. There are about 25 non-residential SHTs around the country, located at ports and airports as well as reporting centres, and 4 residential ones, which can hold people for up to 7 days.
The first time short-term detention facilities were exposed to independent scrutiny was in the summer of 2004, when an inspection programme for these centre was started by the Chief Inspector of Prisons. The first set of reports, which covered Communications House (London), Lunar House (Croydon), Electric House (Croydon) and Dallas Court (Manchester), found that "there is little external supervision or regular monitoring of these centres." In August 2005, Anne Owers said: "Though [short-term detention facilities] hold detainees only for short periods, they do so at a time of maximum anxiety and uncertainty, outside the public gaze."
The "systemic deficiencies" common to most, if not all, of these centres have become all too familiar: prolonged detention (due to over-crowdedness in 'normal' detention centres) despite the facilities' not being fit for holding people overnight; the use of force and segregation; lack of information and healthcare; inadequate facilities; untrained or inadequate staff (especially in dealing with children and self-harm); women and children being kept in the same room as single men and so forth.
All reporting centres in the UK are run on behalf of the UK Border Agency by private security company G4S, which also runs a number of privatised detention centres across the country and is the UKBA's main contractor for detainee escort services. G4S has been repeatedly criticised by the Chief Inspector of Prisons for "settled misery" in their detention centres, the lack of information provided to detainees about the availability of legal aid and such like.
Communications House
Located just off Old Street roundabout, Communications House is one of London's two main immigration reporting centres. It is open five days a week (used to be seven) and sees up to 500 people a day, mostly asylum seekers from across north and east London, who are forced to report there on a regular basis.
Communications House is provided with a 'short-term holding facility', which consists of one secure room that has no facilities to hold people overnight. The holding room is normally staffed between 9am and 5:30pm by up to four G4S 'detainee custody officers' (DCOs), or longer if an escort is awaited to remove detainees. There are usually three DCOs and a supervisor on duty but they share duties with other G4S staff at other short-term detention facilities in the London area (Becket House in south London and City Airport in east London). There are at least two G4S detainee escort vans based at Communications House, which has a secure vehicle compound.
Most people detained in the holding room arrive from the adjoining reporting centre. Some are also brought by the snatch squads who are based there and operate in the surrounding area. Other detainees are occasionally held there briefly, for a 'comfort break' or change of vehicle, while being transferred from one detention centre to another or to a London court. On average, the short-term detention facility at Communications House sees five detainees a day.
Stop Deportation


Homepage: http://stopdeportation.net