No Borders | 12.02.2007 17:30 | Iraq | Migration | Birmingham | London
Top Secret
In the run-up to today's deportations, the Home Office have consistently refused to reveal any details (date, names etc.) concerning the 'operation', not even to the deportees' solicitors. For reasons of "operational security", they said, "it is not the policy of the Immigration Service to disclose logistical information about such removals, but we anticipate removal will be before the end of February."
Initial reports had suggested the date of the charter flight would be 27 January, but that flight seems to have been cancelled. Later on, reports from detainee support groups confirmed that the flight was scheduled on 12 February from the Brize Norton RAF base, but the time was not confirmed. Detainees in Tynsley House were told by staff that they must hand over their phones and be ready to leave at 4am. However, the solicitor acting for one of the detainees said the Judge considering his matter had confirmed with the Home Office that the plane would be flying at 2pm.
This secrecy can be only explained by the Home Office's attempt to avoid the growing pressure and embarrassment caused by campaigners and protesters. "They must have learned something from the previous times after all," as one protester put it.
Don't They Read the Papers?!
Thanks to Bush and Blair and their allies, Iraq has turned into a bloodbath. With Iraqi death toll already estimated at around 650,000, killings and violence have become part of everyday life for most Iraqis.
As a war zone, Iraq continues to be listed as one of the countries 'creating refugees'. Last month, the United Nations refugee agency, UNHCR, warned that the scale of internal displacement in Iraq has gone beyond the capacity of humanitarian agencies. UNHCR estimates that 2 million Iraqis are now living outside the country as refugees, including those who left before 2003 but have failed to return due to the country's catastrophic situation. Another 1.7 million Iraqis have been internally displaced recently. At least 500,000 people fled their homes in 2006 as a result of US military repression and the rise in sectarian violence. It is thought that 80,000 to 100,000 people are joining the ranks of internal and external refugees each month.
The argument the Home Office has used to deport Iraqi-Kurdish asylum seekers to Kurdistan (northern Iraq) is that the northern parts of the country, unlike the rest, are "relatively safe". This is, of course, totally unfounded. In its position paper on Iraq, UNHCR recently said that the security situation in the three northern governorates (Sulaymaniyah, Erbil and Duhok), "remains tense and unpredictable" and that "careful consideration" must be given before any returns are carried out. The UK is so far the only European country to forcibly 'remove' asylum seekers to Iraq.
Even the Kurdistan Regional Government (KRG), who were apparently aware of the Home Office's intention to deport a number of rejected Iraqi-Kurdish asylum seekers, do not seem to agree with this policy. KRG representative in the UK Bayan Rahman has reportedly written to the Home Office saying they "object to any forced returns".
"This is so ridiculous," said one Iraq refugee, who preferred to keep anonymous, commenting on the Home Office's declaring Northern Iraq "safe to return". "Don't these people read the papers?!" he added.
No Borders

11.02.2007 02:09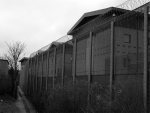 The detention centres are run like high security prisons...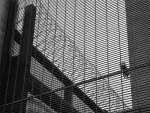 despite the fact that those inside have comitted no crime

Activists show the watching detainees what they think of the fences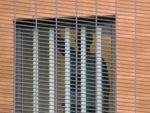 The detainees repond with a clenched fists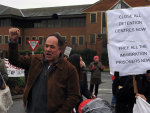 People gather in front of the main entrance with placards and vocal resistance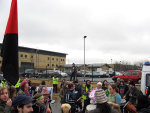 accompanied of course by an energetic samba band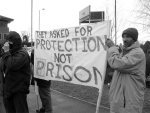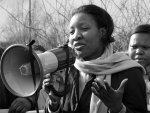 Former detainees tell of strain and humilation suffered day in and day out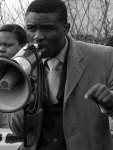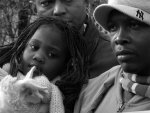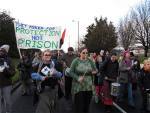 The crowd march down the main road before people disperse in time for 2pm visits
Here are pics from the demo today in London. Was a really positive atmosphere but also very upsetting especially seeing the detainees waving through the barred windows behind 2 huge barbed wire fences. All was peaceful except at one point when the pigs got really aggy for no apparent reason.
no1_is_illegal

---
14.02.2007 11:44
For what it's worth below Home Office when asked for a statement on
returns to Iraq on Monday, issued the following:

A Home Office spokeswoman said:

"The Home Office announced its intention to commence an enforced
returns programme to Iraq in February 2004. Having these arrangements
in place brings Iraq into line with arrangements we have with other
countries.

"It is important for the integrity of our asylum system that any
individual who is found not to be in need of international protection
should be expected to leave the UK. Voluntary returns are preferable
to enforced returns but if people do not leave voluntarily, we will
enforce their return. Iraq is no different in this regard.

"We can confirm that a plane chartered to remove 38 Iraqis has landed."


As ever when asked to clarify that it was Monday the Home Office
neither denied or agreed that it was Monday or even where the plane
took off from and landed.

John O
John O / repost

---
14.02.2007 14:42
Some reports have at last been received about the fate of the asylum seekers forcibly removed to Iraq on February 12 from RAF Brize Norton.
We understand from sources in Erbil that the plane landed not at the normal passenger terminal but in a cargo area, and that journalists and most airport workers were kept away from the area.
Dashty Jamal of International Federation of Iraqi Refugees phoned two of the deportees this evening. The arriving deportees said they were faced with numbers of KDP special police (Asayish) outside the plane. Some were beaten by the airplane guards as they were herded from the plane and on to a waiting bus. They were taken to a hotel which was under the control of the Asayish.. They reported that some were eventually allowed to leave with their family, but those without their family members available are still in the hotel. It is reported that the Asayish are not allowing anyone into the hotel to visit the deportees.
The International Federation of Iraqi Refugees and the Coalition to Stop Deportations to Iraq are very concerned that the British government still sees fit to deport people to Kurdistan, subjecting them to being forced on and off military aircraft. People's families in Erbil did not know where their relatives were for many hours. We are also concerned that the KRG authorities facilitated the landing of the plane, and allowed the deportees to be beaten, even though the media in Kurdistan has been full of denials from the PUK and KDP for several days that they had any agreement with the Britsh government to accept people forcibly returned. We fear that these denials, along with the secrecy and media embargo at Erbil airport
are aimed at least in part at deceiving the people of Kurdistan about the true policy towards accepting people forcibly removed. We also understand from a Home Office letter to judges dated 2 February that the Home Office has in fact been concerned about the possibility of terrorist attacks on Erbil airport, which hardly supports their argument that the three northern governorates of Iraq are safe to return people.
For further information as it becomes available please contact Dashty Jamal on
0785-603-2991 or

d.jamal@ntlworld.com
, or Sarah Parker on 0208-809-0633.
COALITION TO STOP DEPORTATIONS TO IRAQ

---