No Borders Nottingham | 12.02.2007 10:44 | Migration | Repression | Terror War
Nottingham contigent numbered 8 out of a 150-strong Feb 10th demo outside privately run detention centres at Heathrow, too big for the small pen cops wanted us in. See photos of a Serco/Sodexho screw (they turned up in pairs shortly before visiting time - cops stopping visitors entering until we'd gone. Police 'intelligence gathering' as well. We also manage to make contact with inmate(s).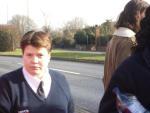 Serco private screw - one of many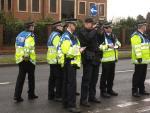 The Met tried and work out what all the banners mean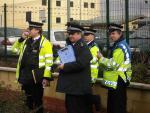 Top cops pleased we didn't turn over their riot van...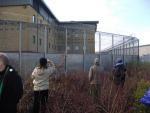 Making contact - waving to asylum seeker(s) at back of detention centre
See also:
Stop Deportations to Iraqi Kurdistan

http://www.indymedia.org.uk/en/2007/02/361861.html
More photos:

http://www.indymedia.org.uk/en/2007/02/361996.html
We are building up the Nottingham No Borders group - look out for more action in the future and get involved.
*** STOP THE NEW 'UK BORDER BILL'! ***
No Borders Nottingham