Peter Marshall | 08.04.2006 19:26 | April 2006 No Borders Days of Action | Anti-racism | Migration | Repression | London | World
Pictures from the No Borders demonstration outside Harmondsworth and Colnbrook Detention Centres in west London on Sat April 8, 2006.

Band prepare to play. Colnbrook Detention Centre in background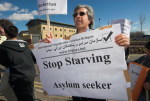 Outside Harmondsworth Detention Centre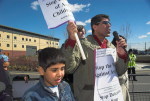 Speaker outside Harmondsworth Detention Centre
Several hundred demonstrators gathered in the car park at 11.00. A number of people, including some who had been detained in these and other centres spoke, and we were also able to hear some of those inside the two centres speaking on mobile phones.
The detainees thanked the demonstrators for coming and told how they were being prevented from hearing what was happening. There had been some assaults on detainees and they were refusing food and water. At one point a small group inside sang over the phone for those outside.
Around one o'clock the police penned in a group of around 60 demonstrators on the main road, holding them for some time. They held one NUJ member, refusing to accept his Press Card was genuine, then going on to argue that press who got close to the demonstrators and went to a lot of demonstrations should be treated as demonstrators. Eventually they released him. At this point I had to leave before the demonstration finished
More pictures on My London Diary shortly.
Peter Marshall


e-mail: petermarshall@cix.co.uk


Homepage: http://mylondondiary.co.uk