Paul O'Hanlon | 19.10.2004 11:11 | European Social Forum | Anti-militarism | Globalisation | Indymedia | London
Here are five photos from the anti-war rally at the end of the ESF and one of long time campaigner in Parliament square, Brian Haw. The photo of Brian and his display was taken on Saturday 16th October which was day 1,229 of his 24/7 vigil in the square.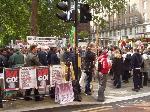 Crowd gathering in Russell Square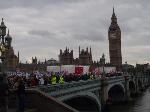 March going over Westminster Bridge.

George Galloway in Trafalgar Square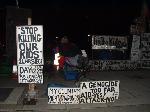 Brian Haw (resting) with his display in Parliament Square. Day 1229!
Paul O'Hanlon


e-mail: o_hanlon@hotmail.com