indymedia uk | 09.09.2003 08:39 | DSEi 2003
The first of the two Days of Action against DSEi arms fair have started early this morning. Indymedia UK is covering what is happenning in the streets around the ExCeL building and other locations around London. Click on the "Read More" link below and then croll down to see the timeline of events of Tuesday 9th of September. You can also listen to the live web radio stream. Mainstream Media reports 61 arrests so far in relation to actions against the DSEi arms fair in the last days. Human Rights group Liberty have condemned the policing at the DSEi arms fair.

Summary:
In the morning one arms company had their doors D-locked whilst another got paintball decoration. Red paint, symbolizing blood was distributed over the main entrance. The CAAT march finished with speeches and before the next event "Fluffy DSEi" policing increased massively. Blockades took place in the afternoon when about 200 people were condoned off for a while. 16 people were arrested today.

Links:
Reports: [ 1, 2,3 ,5, 6,7,8,9,10,11,12,13,14,15, 16]
Pics: [1,2, 3,4,5, 6,7, 8,9,10,11,12]
Audio/Radio: [1,2]
Videos: quicktime : [1,2,3,4, 5, 6, 7] wmv: [1,2,3,4,5,6] ,mpeg,avi,
Other coverage: Italy IMC, IMC Germany
Miscellaneous: [Infrastructure Information, Background, Mainstream press, Press complaints campaign: [1,2,3], BBC "have your say" ]
17.00:
Some of the samba band crew have been arrested, including a priest, after a sitting down on Connaught Road roundabout refusing to move. One of the arrestees was dragged away by police in a very aggresive manner. See
pics
.
16.00:
150 protestors are now being held opposite Prince Regent DLR station. A few people are being allowed to disperse individually. They are told that if they leave in groups they will be "shadowed" by cops. A model of a US eagle has been liberated.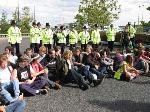 15.55:
The boats that set off from the Southside of the Thames have been forced back by Police speed boats. Many protestors are now heading back towards Prince Regent DLR.
15.35:
Between 100 and 200 people have been
illegally detained
for 45 minutes, because this was an "unlawful assembly" the police wanted to know "who were responsible for the breach of the peace". The police have opened the cordon now and people are moving off. A sound-system turned up playing dub and hip-hop to an appriciative audience.
15.15:
Liberty
have agreed to represent any demonstrators arrested under the Anti-Terrorism Act. Protestors spotted in boats heading for the Navy ships. The kids are out of schools now and on to the streets, traffic is getting heavy...
15.00:
The 100 or so people, including a giant eagle with blood on its wings, that had held the roundabout for 30 mins, have been removed. One samba player violently dragged into a van not clear if arrested, nor why this happened.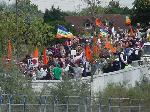 14.50:
The 200 strong breakaway group is now hemmed in by cops on two sides. No movement is allowed. Some scuffles between the crowd and the 100 police. The situation is very tense.
14.30:
Roundabout completely blocked. Police vans are "helping" the blockade, actually blocking the entrance to ExCeL, causing a traffic jam of arms traders trying to leave the fair. A second samba band has formed and is playing to a dancing procession of 200-300 people, which has split up from the main one, is heading to the East side of ExCeL and has blocked the footbridge leading to the building, after pushing through a police line.
Full report
14.20:
Schoolkids in the area were
not allowed out
of school today at lunch time. This happened last time, too, and they ran at the police lines causing minor chaos.
14.15:
Two entrances of the roundabout are now taken, as well as the whole road between the overpass and the DLR station. People are sitting down, linked up and singing songs. The crowd has also split up to block more roads in the area.
14.10:
Samba band and a few hundred people are still on the roundabout at Victoria Dock Road, opposite ExCeL, confined to one side of the road - free to come and go in and out at one end; all chill. There is a minitank-soundsystem in the area.
14.05:
At Victoria Rd, a legal observer was violently pushed into the bushes. She is fine now.
14.00:
A crowd of up to 1500 protestor has now formed along Victoria Dock Rd. and the junction with Connaught Bridge. A sound system is playing music. All is quiet for now.
13:20:
Connaught Road blocked at both ends. Royal Albert Roundabout blocked, but protesters are outnumbered by police who try to move and kettle people. Victoria Dock Road is still blocked with Samba band; the atmosphere is very fluffy.
13.15:
Running scuffles between police and groups of protestors scattered around the area around the east entrance to Excel, resulting in five arrests so far. The samba band keeps playing while being pushed by police. Puppets and mock missiles are blocking the east entrance.
12.45:
After a person was arrested for walking up and down the police line, the police used this as an excuse to impose a Section 14, asking by megaphone for everyone to disperse or move into a designated park where they will be 'kept'.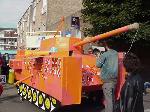 12.30:
The remains of the CAAT march are proceeding along Victoria Dock Road towards Prince Regent DLR, on their way to the
"fluffy DSEi"
meeting point at the East of ExCel, at 13:00. The crowd and "tank" have been pushing the police line who have called for reinforcements to block Victoria Dock Road.
12.00:
The bright orange tank is now moving towards Regent Station followed by about 2000 protesters and 200 police. All is peaceful so far.
11.45:
Speeches were made by representatives of Globalise Resistance, Pat Arrowsmith of Amnesty International and others. A decision was made to move towards Custom House and the East Entrance of the Excel Centre.
11.30:
A couple of elderly Christian anti-arms protestors managed to get on the DLR platform and held up a banner "Thou shall not kill!", the police announced they were a danger and carried them off back to the crowd.
11.15:
Samba band and procession have reached Custom House. Lots of press at the CAAT march, speeches to start soon from a small stage. A
tank
is playing with police lines. One banner reads:"Stop state sponsored terrorism".
10.45:
official CAAT march starting off with about 300 people and a colourful samba band at the lead, dancing slowly down Victoria Dock Road towards Excel. Delegates are watching bemused from the arms fair. The whole area is flooded with police.
Full report
10.30:
- DSEi Live IMC webradio gets set up. URLs:
http://radio.uk1.indymedia.org:8800/live
or
http://freeteam.nl:8000/icy_0"
. Occasionally some connectivity problems might still occur. Please retry and use various radio players such as winamp or
zinf
.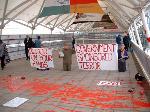 8.00:
Small affinity groups visit companies involved in the arms trade and greet them by d-locking their doors and delivering instant decoration with paint-balls.
Full report
7.15:
- Activists blockaded the arms fair by pouring a 4'x15' pool of
red paint symbolising blood,
on the walkway of the main pedestrian entrance to the Excel Centre. Three activist have been arrested in this action.
Full Report
,
Pics
,
London Catholic Worker
.
indymedia uk