Over 500 people marched in London today as part of the Transnational Day of Action Against Migration Controls. The march was loud, colourful and had a festive atmosphere. But probably, one of the most positive aspects of the demonstration, was the diversity of people and groups that came together to defend the rights of migrant people, for the freedom of movement, against deportations and border controls ... maybe this march signalled the starting point of a new movement here in the UK.
Below there's a selection of pics that aims o show this diversity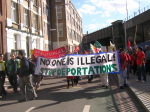 The front banner of the demo, behind which there was, amongst others ...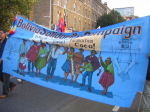 ... the Bolivia Solidarity Campaign ...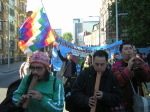 ... which had its own music ...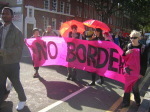 ... a Pink No Borders Block ...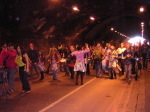 ... the almost traditional Samba Band :-) ...

... the International Organisation of Iranian Refugees ...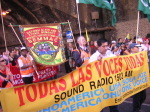 ... the Latin American Todas Las Voces Todas radio station ...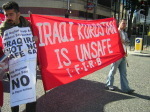 ... a group of Iraqi / Kurdish Refugees ...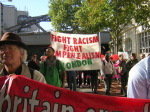 ... Fight Racism Fight Imperialism London ...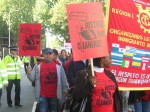 ... the Justice for Cleaners Campaign ...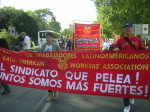 ... the Latin American Workers' Association ...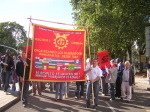 ... the Transport and General Workers Union ...