Indymedia was present in the streets of London on MayDay by joining the Autonomous Bloc during the main demonstration. Later in the afternoon, Indymedia London activists set up a Public Access Point at the Square Social Centre, so people coming back from the different events that took place during the day could upload their own reports, pics and videos straight into the Indymedia websites.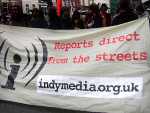 IMC presence in the Autonomous Bloc 1 ...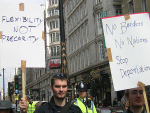 Two of the main issues of this year's MayDay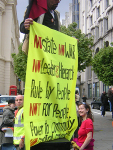 A demonstrator making his case quite clearly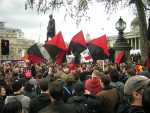 Autonomous Bloc re-assembled in Trafalgar Sq after the cops took the Soundsystem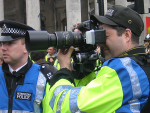 ... and so, the F.I.T always in operation!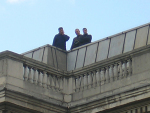 Anonymous onlookers from the National Gallery's roof. Who were they?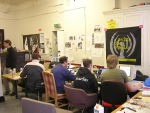 Indymedia's Public Access Point set up for the day.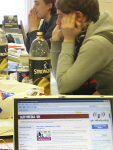 People uploading their reports after the demo and other events ended