Anon | 18.01.2016 17:20 | Anti-racism
An ex-British Army Solider and National Socialist called Paul Davies from Doncaster has been exposed.


Paul Davies - At fascist demo in Dover September 2015 and ex-british solider

Paul Davies support for National Socialism (click to enlarge)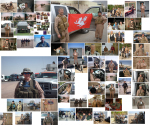 Paul Davies involvement as a Solider with the British Army (click to enlarge)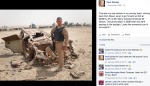 Paul Davies involvement as a Solider with the British Army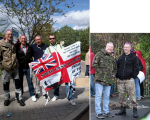 Paul Davies at fascist demo - with South East Alliance + with NEI Billy Charlton

Paul Davies at fascist demo in Dover

Paul Davies in Calais putting up NWI stickers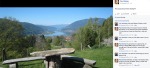 Paul Davies and Annii Davies second home in Austria they call the "Fatherland"
Name:- Paul Davies
Gender:- Male
Political Affiliation:- English Nationalist/National Socialism/
From:- Doncaster
Lives:- Doncaster
Other places lived abroad:- Carinthia, Austria (Has open house/second home since 2012 above Lake Ossiach, Carinthia)
Education:- Hayfield Comprehensive School
Previous Army Employment:- British Free Corps, Royal Military Police,
Address:- 4 Chestnut Dr, Auckley, Doncaster, South Yorkshire DN9 3LW
Political History:- In an image posted by Paul Davies on the 12th November 2015 states "The Wolfsangel, symbol of liberty, independence and resistance." with an image of the symbol used by the National Socialist movement in the Netherlands [1] is a part of Paul Davies wider support for National Socialism.
Paul Davies idealogical support for National Socialism can be be dated as far back as 2010 with a copy of "SS Werwolf" which is a SS guerrilla warfare guidebook Paul Davies owns and has read. Paul states others "may get a good few ideas from it" and that he "just needs to build his own Woldschenze now" which was Adolf Hitlers first Eastern Front military Headquarters [2]. He even goes further to state it's something he's been preparing his private estate home for and is ready for except for "sandbags and MG42 to sort now".
Paul Davies is married to Annii Davies who's also a National Socialist and has family who were part of Hitlers Nazi regime, Paul states "if it wasn't for Adolf Hitler I would've never met my wife" and "I will lay a wreath at Ulrichberg-for my wife's family who fought for their country" which in another post Annii Davies even calls Adolf Hitler her "Grandad". Later on in 2012 Paul and Anni Davies bought a second home in Carinthia, Austria just above Lake Ossiach which they call the "Fatherland" as a open home and possible B+B for family and friends.
Nearby in Carinthia is The Ulrichsberg Memorial that Paul Davies has visited and laid a wreath to commemorate Wehrmacht and Waffen SS soldiers. The Ulrichsberg Memorial is part of a wider gathering which is an annual reunion of Nazi veterans held in the Ulrichsberg Mountains [3]. Paul even goes further to state that "few people would doubt the justness in Britain taking up arms against Hitler, but the majority of his soldiers were no different to our troops, called to fight for their country".
Paul Davies fascination with National Socialism doesn't end there though, he's bought National Socialist badges and memorabilia to sharing and posting a number of meme's joking about The Holocaust such as "at least Hitler could use an oven" captioned behind a photo of Gordon Ramsay and "What's the difference between boy scouts and jews? Boy scouts come back from their camps." behind a photo of Adolf Hitler and soldiers laughing. Additionally Paul also makes homophobic jokes about other troops while in Germany stating "Unfortunately the man on the left seems to have read "I'm camp" and not "Mein Kampf."
Furthermore relatives of Paul Davies such as his sister in law have even bought Paul DVDs of 'Adolf Hitler - A reign of terror" to himself taking a photo of a Swastika while he was in the British Army fighting in the Kurdish region of Iraq at the time.
—
Military History:- Paul's involvement with the British Army can be dated back to as far back as 1983 in Monchengladbach till after 2000 sometime where he took part in numerous campaigns before his retirement such as Basra, Iraq to Dusseldorf,Vogelsang in Germany with the British Military Police.
—
Paul since leaving the Army has attended numerous demos held by NWI and South East Alliance to most recently the Dover demo in September 2015. Paul states he's also going to the Dover demo again this year on the 30th January 2016.
[1] -

https://en.wikipedia.org/wiki/Wolfsangel#As_a_Nazi_symbol
[2] -

https://en.wikipedia.org/wiki/Wolf%27s_Lair
[3] -

https://en.wikipedia.org/wiki/Ulrichsberg_gathering
Anon