Cameraboy | 04.12.2015 00:44 | Anti-militarism | Social Struggles | Terror War | Cambridge | London
At 5:00pm on Wednesday, December 2nd 2015 Cambridge activists came together outside The Guildhall to publically express their outrage against the UK's RAF dropping bombs on Syria.


The main message of the night.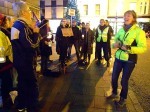 "David Cameron is not logical..."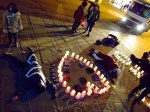 A spontaneous die-in took place...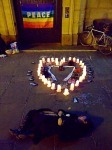 The TRUE definition of 'Hearts and Minds'..?
Compared to the previous weekend's demo it was a much smaller turnout, but in many ways ended up being an extremely creative gathering, as not only were some songs sung by candlelight ("David Cameron is not logical" - you had to be there...), but after a couple of hours the pavement in front of The Guildhall ended up being covered with chalk drawings and slogans, a spontaneous creative outpouring against the outrageous acts of violence about to be inflicted upon Syria.
One of the most poignant art installations was some candles shaped in the form of a heart (replete with paper doylies, each one carefully handwritten on with the message "stop the war"). Inside were placed pairs of shoes, to represent the civilians who are likely to be killed in this rain of fire visited upon them by Cameron's government.
A spontaneous die-in also took place, with each person's place on the pavement then being outlined in chalk, ultimately looking like a crime scene for a mass homicide when those places were vacated.
This was definitely one of the most creative anti war protests I've seen for some time, and even though those fools in The Commons decided to commit acts of mass murder regardless of what the people who voted for them wanted, it was good to be a part of such an event.
If only our so-called leaders could display as much inventiveness as was on show that night, the world would be a better place for all of us.
Cameraboy