WISE Up Wales | 05.06.2015 20:44 | Energy Crisis | Fracking | Liverpool
Photos taken during a visit to the camp on Friday 5 June.
The camp is on organic farmland, Dutton's Lane, Upton, Chester CH2 2PE, the site of IGas's proposed test drill for coal bed methane. It was set up to protect the local community from IGas and, over a year later, is still going strong.
Visitors are welcome and guest accommodation is available on site, with plenty of room for camping too.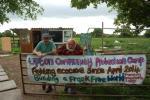 At the gate of Upton Community Protection Camp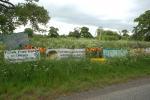 Banners along the road; organic field behind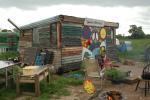 Inside and outside communal spaces
Upton anti-fracking camp in Chester is the elder sister of Borras camp in Wrexham
[pics of Borras here:

https://indymedia.org.uk/en/2015/06/520677.html
]
and was set up to protect the land in April 2014 when Dart Energy (now IGas) were still test drilling at Farndon nearby
[more here:

https://www.indymedia.org.uk/en/2014/03/515992.html
]
and it seemed likely that Upton might be next on their list.
The site has been occupied ever since and is now well established, with a large vegetable garden, a kitchen, caravans, guest accommodation, compost toilets, solar power and communal areas including a well stocked library. Children living on the site are attending local schools and the camp is well supported by local people, who are invited to call in and get involved in the life of the camp. Visitors are welcome any time.
The camp is supported by Frack Free Dee Coalition, which brings groups from across the Dee Valley area together, educates politicians and raises awareness of issues around fracking, coal bed methane and underground coal gasification. Coalition groups include Upton, Wirral, Mickle Trafford, Malpas, Wrexham, Farndon, Dudleston and Prestatyn.
More info:

http://www.frackfreedee.co.uk/

http://frack-off.org.uk/

http://drillordrop.com/
WISE Up Wales


Homepage: http://frackfreeupton.blogspot.co.uk/