Cameraboy | 26.10.2014 16:49 | Palestine | Social Struggles | Terror War | Cambridge | World
On Monday October 20th Daniel Taub, the Isreali Ambassador for London visited The Cambridge Debating Union (aka the Union) to speak, and was greeting by a noisy protest.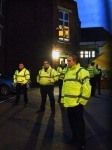 Private Security, turned their backs on photographers, but I got this one!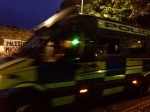 This van had at least half a dozen Isreali State Security in it.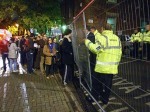 Letting the punters inside the ring of steel.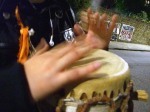 Noise at the protest was provided variously by drums...

...And Piquetero style saucepans!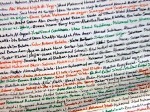 Banner Art #4 (names of the dead)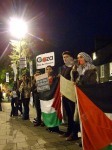 Activists kept up the noise...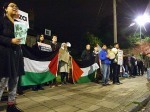 ...Throughout the whole evening.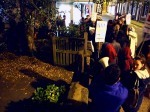 Greeting attendees with more noise as they left.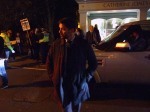 Genuine 'spooks' were in evidence...
According to The Cambridge Student (TCS) newspaper all laptops and 'phones were banned from the debating chamber and the Union's usual live web stream was also switched off.
As well as this the Union building looked like a fortress outside, with in effect a ring of steel fences blocking all entrances, along with not only private security gaurds, but it turns out about half a dozen specialist Isreali state security in attendance, ironically dressed in black shirts.
There was clearly some collusion with the Isreali team and the local police, as they were seen getting into a blue riot van outside on Park Street, and then spirited away at great speed to destination unknown (probably Parkside station).
It would also seem that from speaking to people who attended the talk there was also possibly some selection of questioners going on, as attendees who repeatedly put up their hands to ask Palestine related questions were overlooked.
A coalition of both local Cambridge Palestine Solidarity Campaign (CamPalSoC) and a student Palestine Society surrounded the building throughout the whole session, making their own feelings clear to all inside by being as noisy as possible! This entailed chanting and singing, whistles, drums, loudhailers and piquetero style use of bashing saucepans to maximise decibel levels.
By all accounts the tactic worked, as according to talk attendees, the protest was clearly heard inside the building throughout the whole session.
Things got very interesting at the end when the Abassador left the building, as it was like something from a spy movie. Not only did Mr. Taub have a convoy of three 4x4 vehicles in tow with blacked windows, but also a full complement of dark coated 'spooks', replete with the requsite head mounted comms and prerequisite bad attitude.
One of those spooks, on seeing me taking pictures made a special effort to cross Bridge Street and push me about! It didn't work, as I'd already got some pictures (including his), which are published here.
Nice to know that freedom of the press is so important to them.
The Union itself was recently rescued from financial oblivion (an approximately £700k debt) by a controversial teaming up with Deloitte, although when they continue to book controversial speakers like Daniel Taub, which compells them to spend who-knows-how-much on private security it should come as no surprise they got into trouble.
Cameraboy


Homepage: http://campalsoc.org/