Cameraboy | 04.08.2014 01:12 | Anti-militarism | Palestine | Terror War | Cambridge | World
On Friday night (August 1st 2014), Cambridge activists created an enormous artwork on Parkers Piece to creatively express their disdain at the massacre taking place in Gaza.


A truly epic piece of artwork!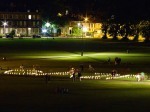 How it looked from a higher vantage point (see how small the people are)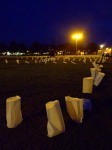 Even before the candles were lit it looked spectacular.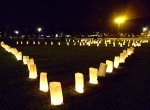 Once glowing, it was a poiganant sight to behold.

Quite a crowd was attracted to it...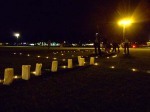 ...Some of whom stayed to help pack it away.
The piece comprised of dozens of candles inside paper bags spelling out the word "Gaza".
The artwork was so vast the only way you could view the whole thing was from on high (see photos), as it was about 150ft wide, end to end.
It drew quite a crowd of Friday night passers by, with many stopping not only to ask what was happening but also to engage in discussion about current events taking place in Israel, so on that level the piece achieved its objective.
It was also very much a community effort, with students and local activists coming together to make it happen.
The only sign of the police during the whole event was a couple of officers who, about an hour after it had all started, decided to take the short stroll from Parkside Police Station (only a couple of hundred metres away across the park), to find out what was happening.
They seemed more bemused by what they saw, so no arrests were made that night!
Meanwhile in Gaza the bloodletting continues...
Cameraboy