WISE Up Wales | 01.12.2013 09:19 | Anti-militarism | Terror War | Wales
We've been in Dublin since Wednesday with Welsh members of Chelsea Manning's family, enjoying warm and enthusiastic Irish hospitality from AFRI and many others during three days of solidarity events, meetings, meals and media interviews. There are Irish connections on both sides of Chelsea's family: maternal grandfather from Rathmines, Dublin and one set of paternal great grandparents (both Mannings) from a village in Cork. Chelsea was flown out to Iraq via Shannon airport, the use of which by the US military compromises Ireland's supposed neutrality. There will be more to report back later, but for now here are a few photos from the visit and some links to other reports and news items.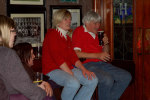 The family relaxes in the Brian Boru pub at a social event Saturday night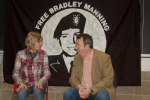 Chelsea's Mum Susan meets Gerry Conlon of the Guildford Four at Trinity College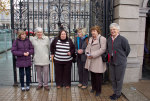 The family meets TDs at theDáil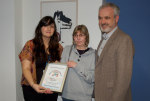 Amnesty presents Susan with a human rights award for Chelsea from schoolchildren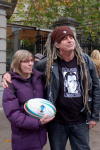 Last chance to win this rugby ball signed by Julian Assange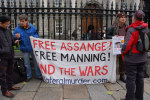 Promoting the Trinity Event beforehand

Poster for Trinity Event (hosted by AFRI)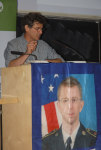 Catholic Worker Carmen Trotter from the US speaks at Trinity event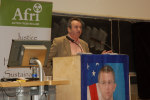 Gerry Conlon speaks at Trinity event
Our itinerary
Meeting with TDs at the Dáil on Thursday.
Meeting with Amnesty Ireland on Thursday.
Meeting with Frontline Defenders and Public Interest Law Alliance on Friday.
Benefit gig on Thursday.
Public meeting hosted by AFRI on Friday with speakers Gerry Conlon on the Guildford Four, Carmen Trotta of Catholic Worker Movement and (by video) Gareth Peirce, Human Rights Lawyer.
Wonderful meals provided by supporters.
Social evening at the Brian Boru pub on Saturday night.
Numerous media interviews with family members.
Some links
More photos at manningfamilyfund.org and on flickr.
Gareth Peirce's address to the meeting: Link to YouTube video.
How to donate to support the family with prison visits: manningfamilyfund.org.
A few days left to enter our raffle to win a football signed by Julian Assange.
Other reports including mainstream media
We're Proud of What Chelsea's Done. Interview with John Healy of Newstalk Radio's Lunchtime show.
Gender transition was a shock but we support her. Interview with Michelle Hennessy of online news service The Journal (Incorrect captioning of picture - Mary is Mary Murray, not Mary Fox).
Family of Chelsea Manning lobby TDs for her early release. Interview with Peter Murtagh of the Irish Times.
Manning's Family Plead for Support. Article in independent.ie.
Family of Chelsea Manning Hoping to Connect with Irish Relatives. Report in The Journal.
Meanwhile, in the Edmund Burke Theatre on Broadsheet.
Whistleblower's Family Lobbying on His Behalf in Dublin. RTE TV news item.
An informal interview with Ruairí McKiernan on facebook (content pasted below for those who don't use fb)
Ruairí McKiernan's report:
I'm humbled and inspired. I'm just back from meeting and interviewing Chelsea (formerly Bradley) Manning's mother and family. I'd been thinking for a long time about what Manning did and why she is being persecuted by the U.S government and ignored by others. What she did, as a young U.S soldier, was expose war crimes on innocent people in Iraq and is therefore a hero to many. Ask yourself, what would you do? (Watch the video Manning leaked here but be warned).



As her mother told me, Chelsea's 'crime' was to tell the truth and the family are all proud of that. Chelsea was bullied and isolated all her life and that continues to this day. They can't understand why she is not given a medal whilst the guilty parties continue in their jobs. I was really moved by meeting them. Nice gentle people who have suffered greatly and received little support.

Hopefully the people of Ireland will support them now starting with their evening in Trinity College Dublin tomorrow evening in the Edmund Burke Theatre at 7pm and/or by contributing via manningfamilyfund.org and by writing letters to Chelsea or finding out more at privatemanning.org.
WISE Up Wales


e-mail: http://manningfamilyfund.org