genny | 28.09.2013 10:28 | Anti-militarism | Repression | Terror War | Wales
Change of court venue - see addition below
My banners (pictured) were seized by Bristol police at the end of May, at the start of a Bradley (Chelsea) Manning solidarity tour of Bristol and south Wales and on the eve of the Manning show trial in the U.S.
The banners were up on the Gatton Rd footbridge over the M32. Read my account of what happened.
I'll be at Bristol Magistrates Court, Marlborough St. on Tuesday 8 October at 9.15am to answer an alleged offence of 'causing danger to road users contrary to section 22(1)(a) of the Road Traffic Act 1988 and Schedule 2 to the Road Traffic Offenders Act 1988'.
Support (and banners!) welcome.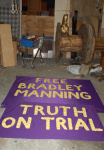 New banners painted and drying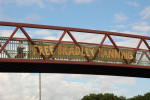 new big banner on display in london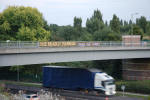 new big banner up on sentencing day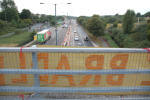 featuring the missing footbridge in the distance
Background
By the time this incident occurred, at the end of May 2013, the pink FREE BRADLEY MANNING banner had already been displayed all over the place, including Wrexham (see also here and here), Cardiff, at NSA Menwith Hill, Chester, Liverpool, London and the summit of Snowdon. It was the first outing for the TRUTH ON TRIAL banner I'd just spent two days painting and sewing.
At the beginning of July, I wrote a letter of complaint to Somerset and Avon Police about the behaviour of the two officers who had
(a) damaged and seized my banners
(b) arrested me for daring to insist that they shouldn't walk away unaccountably with my property having told me they were going to destroy it.
On 6 September, over three months after the incident and nearly two months after logging the complaint, I received a written summons to answer an alleged offence of "causing danger to road users", followed by a letter from the Roads Policing Unit stating that my complaint will not be concluded while court proceedings are ongoing.
The charge sheet reads:
Causing danger to road users
On 30/05/2013 at Gatton Road overbridge, in the City of Bristol, intentionally and without lawful authority or reasonable cause, caused canvass banners to be over a road, namely M32, Fishponds, Bristol, in such circumstances that it would have been obvious to a reasonable person that to do so would be dangerous.
Contrary to section 22(1)(a) of the Road Traffic Act 1988 and Schedule 2 to the Road Traffic Offenders Act 1988.
H.O. 5/11 Local None CJS RT88042
FREE MANNING! END THE WARS!
From my earlier report:
This account has all been about me. It's really all about Bradley [now Chelsea] Manning, imprisoned without trial for three years, tortured, facing possible life without parole or the death penalty for exposing the crimes of empire and the facts about the real people imprisoned, abused, injured and murdered in the empire's endless wars, along with abuse of power and influence around the world... Please find ways to show your support and solidarity.
Welsh and Irish roots
Pvt. Chelsea Manning (formerly known as Bradley Manning) has Welsh and Irish roots and has close family living in south-west Wales. She was sentenced in August to 35 years in jail for daring to tell the truth, for blowing the whistle on war crimes. Manning presented us with hard evidence about the wars in Iraq and Afghanistan and the so-called 'war on terror', exposing the lies, speaking truth to power.
A trial the US tried to keep from the public gaze
The Manning solidarity tour was part of national and international actions before and during the trial at Fort Meade, Headquarters of the NSA. Worldwide actions aimed to alert the public to proceedings and issues that the US was doing everything in its power to try to keep out of the public gaze, denying most of the defence witnesses, restricting the scope of the defence case, frustrating the efforts of independent journalists to report accurately by withholding court filings, placing unreasonable restrictions on those attending, and with a complicit mainstream media that - apart from the odd day - largely ignored what was going on in one of the most significant military trials in US history.
Independent journalist Alexa O'Brien, who comprehensively covered the trial and pretrial proceedings, talks about these issues on Triple R news.
Manning's conviction on 20 of 22 charges including several counts of espionage is a travesty of justice. Read more about the revelations, the case, the verdict and ongoing solidarity efforts on the WISE Up blog and at privatemanning.org.
In the words of Ben Wizner of the American Civil Liberties Union (ACLU):
[A] legal system that doesn't distinguish between leaks to the press in the public interest and treason against the nation will not only produce unjust results, but will deprive the public of critical information that is necessary for democratic accountability.
Donate to support the family's prison visits
If you aren't totally skint, please consider making a donation to support Pvt. Manning's Wales-based family to visit her in prison at Fort Leavenworth, US, in the coming years. The family have already made four visits to the US during Manning's pre-trial detention with no financial support.
Back to the banners: Exercise your rights!
Don't let this prosecution and outrageous cop behaviour stop you from getting out on the streets with yer banners! Defending our fundamental right to freedom of expression is of paramount importance in a world where the corporate mainstream media continues to silence our voices while reporting government lies as fact and where so many of our previously public spaces have been privatised and commodified. I'll be defending my rights in court this time but the best way to defend rights is by exercising them, loudly and often.
We made temporary and much smaller replacement banners the same night the others were seized, but I later made another full size one. Here's an account of one of three banner drops with the new banner in London, this one on 22 August, the day the Manning sentence was handed down:
Early evening, I head off to a footbridge over the North Circular that my brother and I have identified as a suitable location for a banner drop. At the start of this trial, Bristol cops interfered with my freedom of expression by seizing my banners and embarking on a pantomime of refusing to give them back and threatening their destruction. This culminated in my arrest and the threat of a charge that has yet to materialise, the banners became 'evidence' and I lodged a complaint that so far hasn't resulted in their return. I thought that was bad but this time it's worse. As I approach the steps on foot, my jaw drops. Someone's taken the bridge away! That's a lot of trouble to go to just to stop me putting up a couple of banners. It doesn't work anyway as I choose a nearby road bridge and display them on there instead.
genny


e-mail: wiseupforbm [at] yahoo.com