rikki | 12.06.2013 00:31 | G8 2013 | Other Press | Policing | Repression | London
massive MSM-friendly police operation to prevent any meaningful protest against G8 and corporate power today in london.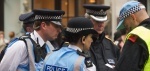 an intrusion of PLOs swapping notes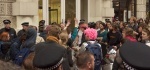 samba outside lockheed martin hq

some running around on piccadilly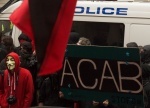 solidarity protest at charing x police station
click pics for larger versions - free for credited non-commercial use - other use contact author ©2013
-------
european news today was depressing. in istanbul, police arrested dozens of defence lawyers. in greece, police shut down the state national broadcaster. in london, police mounted a huge pre-emptive operation to attack and disrupt the planned 'carnival against capitalism', part of the week of london protests against the G8.
this morning more than a hundred police dressed in full riot gear attacked the legally-occupied convergence centre in beak street. witnesses from inside the building speak of police breaking through the doors with an angle-grinder and battering ram, and then unleashing 'chemical agents', tasers, and the edges of round shields, to violently assault some of the occupants inside. there were reports of a man knocked unconscious with a crow bar, and of the angle-grinder being used offensively.
the attack was timed to create maximum disruption to plans to hold demonstrations in central london from noon, and is the most recent example of a disturbing trend towards pre-arrest and thought-crime. the MSM were tipped off and present.
with a hundred or more activists, as well as banners and other protest paraphanalia, out of commission, the protests went ahead with a subdued spirit.
two meeting places had been called at noon - oxford circus and piccadilly circus. the oxford street protestors decided it best to join forces, and led by some samba, they made their way down regent street, followed and hemmed in by a huge number of police trying to push them on to the pavement.
when they arrived at piccadilly circus near 1pm, they joined the group there and numbers swelled to several hundred. some quickly set off west along piccadilly, but there was soon an incident as riot police ran in front and a snatch arrest led to confrontation. this pattern continued sporadically as the group continued westwards, then some activists broke away up side streets into mayfair and across towards berkely square. along the way, a mainstream camera crew received some abuse from blac bloc activists, and police charged in and made another arrest.
near green park tube station, police used the section 60 in force to search some protestors, and another arrest was made there.
meanwhile, quite a large group, including the samba band, were being held in a loose cordon near to fortnum and masons. suddenly, they broke away up a side street and took over regent street for a while, blocking both carriageways for some time, before finally rejoining a group that had remained at piccadilly circus.
from there there was another walkabout, facilitated by the band, who led the way to some of the targets on the activist carnival map. first was lockheed martin (arms company) on lower regent street.
there a police liaison officer (whose role, it is claimed, is to diffuse tension and facilitate protest) warned the sambaistas that they needed a licence from the council to play musical instruments in westminter's streets, and that if they didn't stop they would be 'processed'. however, the band continued playing at the next target and this turned out to be an idle threat.
moving into st james square, the group played for a while outside the BP HQ there which was guarded again by huge numbers by a police force that looks increasingly like a militarised private corporate army for hire.
more walkabout continued, this time led by a sound system, up st james street and once again on to piccadilly. as the group of a couple of hundred marched east towards the circus, they were met by a line of TSG across the road, so they turned and ran up a side street once more into regent street.
followed by police helicopter and dozens of riot vans, the peaceful procession then marched north to oxford circus and west to the junction of duke street where they held an open mic session outside a rolex shop and the high end jewellers 'swarovski', telling shoppers what the protest was about, and inviting them to join in.
next they travelled east to tottenham court road to show solidarity with crossrail workers suffering blacklisting (a story the pisspor MSM have finally just 'broken' after independent media have been highlighting it for many months).
back at piccadilly circus, the original plan for the day was to hold a celebratory party there at 5.30. again, after the massive police intervention, this was a bit subdued, but a few hundred activists did gather there, playing music and running open mics. the police copter hovered above eros, and a loose cordon surrounded the party, while the insidious police liaison officers (blue-tabarded PLOs) fulfilled their true intelligence gathering roles while mingling smiley-faced among the crowd before scurrying off to the edges and exchanging their notes with police intelligence gatherers.
around 7pm, a decision was made to provide solidarity to the many arrestees being held at charing cross station, and a sound system and about a hundred activists took to the streets and then made a lot of noise with pots, pans, and a strange mixture of toy instruments outside the station.
i briefly checked out the convergence centre before leaving central london, and saw a sad pile of beautiful catering kitchen equipment outside, as police and security were ensuring the front doors were secured and some visiting activists sat outside with rucksacks waiting for news of alternative accommodation.
mainstream news was predictable. the bbc national news interviewed someone who was asked why protestors didn't want to talk to MSM, he replied "because none of you do proper journalism" - an observation rather borne out by the fact they didn't even ask if he "represented" the protestors, when in fact he was this independent journalist - wow they're crap!
on the subject of TV news, for anyone who hasn't discovered it, the freeview global TV station RT, or 'russia today' often does half decent journalism, especially stuff like the abby martin show 'breaking the set'. on their news they gave some decent airtime to an interview with a protestor (the inimitable 'pheonix'), as well as showing some footage of police excessive force. they of course have their biases, but these are russo-centric, so their reports on europe and america are refreshingly honest.
latest police announcements claim that 57 people were arrested in all. of course police will be pressing for bail conditions stopping these people from protesting the rest of this week, even though many will inevitably have any charges or investigations dropped later. this has been a much used tactic of late, most notably with the mass arrest of anti-fascists a couple of weeks ago at a BNP rally in whitehall, all given 'stay out of westminster and don't protest' conditions of police bail.
for further events planned this week to highlight the G8, see

http://www.network23.org/stopG8
- there are also contact numbers for legal and accomodation help there. a walkabout with militarist theme is scheduled to begin at 2pm tomorrow (weds) at BAE (carlton gardens).
-------
for sporadic reports from the street and occasional other posts, follow @indyrikki
rikki


e-mail: rikkiindymedia(At)gmail[d0t]com