Kawah | 27.02.2013 21:22 | Anti-militarism | Iraq | Terror War | London | World
According to the local source several Kurdish villages been under brutal air strike during last few days.
This brutal attacks happening despite all the media report about peace talk between Ankara and PKK.

Stop bombing innocent villagers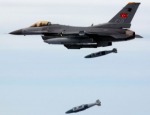 Nato presents for environment and innocent people

Stop bombing innocent villagers
see the video report here

https://www.facebook.com/photo.php?v=353790381407165
Turkey's criminal war machine continues destroying the environment and life of innocent villagers in the mountain region of Qandil.
Show your support to defend innocent people and to save environment which brutally destroyed due to continuous Bombing and Shelling the mountain region of Kurdistan.
Kawah


e-mail: kawah2000@gmail.com


Homepage: BetterLive@BetterWorld.com