rikki | 13.10.2012 14:16 | SOCPA
in a joint project between contemporary artists and peace activists, thursday saw the parliament square 'westminster cabinet' once more on public display, at the 'different' gallery in percy street, alongside works on a theme of peace by various contemporary artists.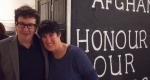 mark wallinger with maria gallestegui
the 'westminster cabinet' originally appeared in parliament square after the SOCPA law was used to limit protest displays to a size of 3m x 3m x 1m after its introduction in 2005.
peace activist, maria gallestegui, founder of the 'peace strike' campaign (against wars in afghanistan, libya, and the threatened action in iran), challenged the law by building a huge box with exactly those dimensions on parliament square.
she also built a second box (the peace tardis), based on a separate SOCPA authorisation, so that the two imposing monoliths stood opposite the gates of parliament for several years.
earlier this year, after the introduction of the new PRASRA laws, the police removed both boxes, using the legislation designed to prevent 24-hour or long-term protest in the square (and beyond!).
during the time they were standing in the square, the two boxes attracted support from contemporary artists, who contributed their works to the locations.
the new exhibition at the 'different gallery' in percy street, sees some of those artists selling their work in a small showroom dominated by the 'westminster cabinet' plinth.
the box, along with its 'brother', will be later auctioned, and all the proceeds will go to a charity project in iraq (the halabja community playground project - halabjaplay.com). a few (but unfortunately it seems not all, despite months of free public display on the protest site!) of the artists have also agreed to donate some part of their sales to the charity.
the exhibition, lasting a week, will also see several events taking place at the gallery.
TONIGHT 7.00 tam carrigan will show images and talk about his work at the halbja project
SUNDAY 2.30 rikki will show his 2007 film "SOCPA - the movie" about the struggle against new laws designed (but ultimately failed and replaced) to ban 24-hour protest in parl sq. there will also be short films and trailers from emma stoner and dean puckett around the democracy village. there will then be an open discussion with the film-makers and peace activist, maria gallestegui, focussing on protest and protest rights around parliament.
TUESDAY 7.00 maya evans and guy smallman will present guy's film 'fifteen million afghans' on the struggle for ordinary afghans to survive in a country crippled by war, corruption, poverty and unemployment
WEDNESDAY 7.00 emily johns will present images and a talk about her work as an artist and activist. artists 'kennardphillips' will also discuss their work.
further info at

http://thepeaceproject.org.uk
rikki


e-mail: rikkiindymedia[At]gmail(d0t)com