International Coalition to Free the Angola 3 | 11.10.2012 18:17 | Anti-racism | Education | Repression | Cambridge
On Tuesday Oct. 9, Robert King of the Angola 3 received an honorary Doctor of Laws degree from Anglia Ruskin University in Cambridge, England, for his achievements as a civil rights campaigner. The full text of the speech made by King at the ceremony, which moved the audience of over 2,000 to a standing ovation, is below.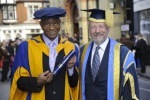 Robert King and Professor Michael Thorne, Vice Chancellor of Anglia Ruskin Univ.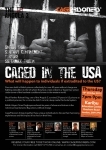 Upcoming London event with Robert King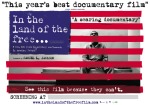 UK Documentary film about the Angola 3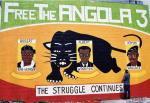 While in the UK, King will also be appearing at other events, including:
--Caged in the USA: What will happen to individuals if extradited to the US?, in London, on October 18, at 7pm, organized by Cage Prisoners--read more here:

http://www.cageprisoners.com/our-work/events/item/5035-caged-in-the-usa-what-will-happen-to-individuals-being-extradited?
--Screening of In the Land of the Free (a UK documentary film about the Angola 3), in London, on October 16, at 7pm--read more here:

http://www.eventbrite.co.uk/event/4484465156
Robert King's Speech at Anglia Ruskin University
(October 8, 2012)
As the only freed member of the Angola 3 I am honoured and humbled to be accepting this honorary Doctor of Laws degree. I am also delighted to have this honour of Doctor of Laws conferred upon me by Anglia Ruskin University. I have been asked to say a few choice words - and I want to say WOW.
It is great to be standing here - in the footsteps and shadows of so many graduates who have gone onto achieve great things. Some of you as well will become barristers, solicitors or as we would say in the USA - lawyers - who will also do great things.
My few choice words to you are: barristers or solicitors are people but they are also among that group of people in society who help make up the great intellectual gene pool of that society. You are the purveyors of truth, your enlightenment brings reasoning to a situation where reasoning often time does not exist: you bring vision - not just visions of becoming wealthy or famous but visions for a better world.
We live in a world that was meant to be perfect but has been made imperfect by people. This present state of affairs is also perpetuated by learned but uncaring persons. However as caring barristers and solicitors, my encouragement to you would be - you can help to change this situation by not only becoming purveyors of legality but also purveyors of morality as well. For often times, legality is void of morality.
The country where I was born - America - we give legality too much deity. We deify it and make it holy. When we give legality this kind of god status we err. In the American political arena oftentime politics is void of morality. A case in point, is the history of slavery in America. It was not until people began to see slavery as being reprehensible and amoral that it was abolished, as we know it.
My evolution began in prison - in Angola State Penitentiary, in Louisiana - in an 18,000 acres former slave plantation. My experience in a 6 X 9 foot cell for 29 years in solitary confinement taught me the difference between legality and morality. It made me realize that despite the fact that the 13th amendment allegedly abolished slavery, I concluded that slavery was never abolished. I learned that a person could be actually innocent of a crime but convicted legally and that this person would be designated a legal slave - as it was in 1864 where the constitution decreed that if you were black being a slave was your lot. Modern day slavery is alive and well in America but it has taken on a different form - from the plantation to the prison.
So in accepting this award, I am mindful that slavery still exists in America. A case in point, are my 2 comrades - Albert Woodfox and Herman Wallace who are now serving their 40th year in solitary confinement - and tens and thousands of others who have also been unjustly convicted but remain in prison in America in slavery. Unfortunately, we have to be mindful that America's style of justice often finds itself on the shores of England; high incarceration rates, highest number of life prisoners in Europe, the privatization of prisons, increased use of solitary confinement and other miscarriages of justice.
The struggle for a more moral and just society continues. It rests upon your shoulders. The vision for morality also continues. The quest for a better world continues as well. Please be visionaries, purveyors of morality and justice.
Thank you Anglia Ruskin University for this honorary letter of recognition.
International Coalition to Free the Angola 3


Homepage: www.angola3news.com