peace day group | 01.10.2012 18:25 | Anti-militarism | Culture | Free Spaces
Peace Days in Wrexham have been marked for a number of years and have steadily grown, from the occasional 'peace picnics' that Wrexham Peace & Justice Forum and Wrexham Women for Peace held in Wrexham's Peace Garden (on the site of the old Quaker Meeting House) and in 2010 on the library green with local band Heal the Last Stand, to last year's collaborative effort with the additional involvement of Wrexham Diocese Faith, Justice & Peace Network, local music promoter Brendan Griffiths, Freeconomy Wrexham, Give and Take, the Yum Yum Project and others. [Reports 1 | 2 ]
This year, we organised three days for peace, the first in St. Christopher's school on Thursday 20 September with nine other schools represented and well over 300 children in total taking part – big thanks to St. Christopher's for inviting us - and then Friday 21 and Saturday 22 September on the library green. Brendan put on free gigs at Saith Seren cultural centre both evenings too.

The marquee is put up just in time [photo: Holly Cooper]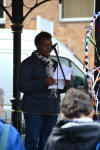 A reading at the multi-faith service [photo: Paul Lowndes]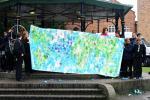 'Hands Up for Peace' artwork [photo: Holly Cooper]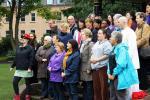 Wrexham Community Choir sings [photo: Paul Lowndes]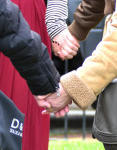 Hand in Hand [photo: Paul Lowndes]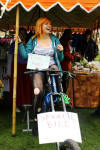 Free hugs [photo: Holly Cooper]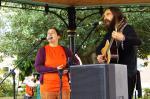 Laura and Joey of Heal the Last Stand [photo: Holly Cooper]
Photos above are from Friday 21 September 2012.
A critical look at Peace Day
International Day of Peace, a United Nations initiative, has been popularised these last years by Jeremy Gilley who has rebranded it Peace One Day with the laudable stated aim of achieving a global ceasefire. Unfortunately, one of Jeremy's Peace One Day sponsors is Coca-Cola, a far from peaceful multi-national corporation responsible for environmental destruction and brutality towards its workers around the world, particularly those involved in trade unions. In Colombia and Guatemala trade unionists at Coca-Cola have been murdered by corporation-sponsored death squads while those working for Coca-Cola and attempting to protect their employment rights in many other countries have been subjected to extreme violence. We decided not to associate ourselves with Peace One Day because of this; they have ignored correspondence on the subject.
The United Nations, meanwhile, has an even bloodier history. To take just one example, it is responsible for the sanctions on Iraq in the 1990s that resulted in the deaths of well over a million Iraqis including more than half a million children under five and led to malnutrition, disease and disability for many of those who survived. During the time sanctions were being applied, alongside the periods of bombing that completed the destruction of Iraq's infrastructure, Iraq went from having one of the lowest infant mortality rates in the world to one of the highest. Madeleine Albright, then US Ambassador to the UN, infamously said that she thought these deaths were "worth it" - not a popular view, even within the UN. In 1998 Denis Halliday, director of the Oil for Food programme at the UN, resigned in protest at the genocidal effect of the sanctions, later followed by his successor Hans von Sponeck and head of the programme in Iraq Jutta Burghardt.
World Peace Day in Wrexham
Notwithstanding our reservations about Peace One Day and the United Nations, we were still keen to mark a day or more for peace with events in Wrexham, so we billed 21 September as a non-affiliated 'World Peace Day' and whilst acknowledging that we were part of something that was taking place around the world under a variety of banners, we also recognised that the foundations for peace have to be laid right here in our community, and also that we all need to be working for peace not just once a year but every day, wherever we are.
We started with a couple of principles that helped determine what our events were going to look like. These were (i) gift economy and (ii) autonomous, non-hierarchical organisation.
(i) Our Peace Day events are open to everyone, free for all and created from our unpaid efforts; in other words they're organised on gift economy principles. It's not enough to talk about the poverty, injustice (and wars) that thrive under capitalism and the pursuit of profit, we need to be able to demonstrate the alternative: a sharing economy can provide for all and brings people together in peaceful cooperation rather than separating them in competition under a system where many don't have even their most basic needs met. Peace Day was just one small demonstration of gift in action, but you have to start somewhere.
(ii) We were also clear that no one group or organisation was going to take control of the events. We formed a loose network of individuals and groups who came together to make the days happen. People working on the school event met regularly for several months beforehand, while the days in town were organised through an informal process of individuals and groups taking responsibility for one or more aspects.
The day we spent at St. Christopher's School has already been covered in
this report
.
Friday 21 September
Our main concern was the weather, given that the event was running for seven hours on an open green with only a small bandstand for cover. We'd asked around for tents and gazebos and had the offer of six structures to protect us from the forecast rain: a tipi, a party tent and four assorted gazebos, but there were quite a lot of things to be protected and last year some of the gazebos had collapsed in high winds. In the end, none of them were needed, as Thursday night we were offered a 40 foot marquee. Light, Love and Peace Tents had been loaned a van for free and not only brought the marquee along but arrived with a crew of helpers to put it up and take it down again at the end of the day.
So the event began with the miraculous unfolding and erection of Andy and Mel's beautiful marquee that was up and secured just as the multi-faith peace service, organised by Maria from the Wrexham Diocese Faith, Justice and Peace Network with the help of the Tangnefedd group, was starting in the bandstand. Representatives from a number of different faiths gave peace-related readings from their own traditions. Children from St. Mary's school stopped by on their way back from the swimming pool to sing a song and those from St. Christopher's displayed the Hands Up for Peace artwork everyone had made on Thursday. Wrexham Community Choir came along to sing for us too.
The marquee provided ample space for the mixing desk, the Give and Take free stall ("Good without God"), the bicycle-powered smoothie stall brought by the Yum Yum Project with a donated bike and fresh fruit, a table full of shared food that never ran out, information stalls brought by CAFOD, EAPPI, more information on Palestine, South Wales Animal Rights and vegan info, Wrexham Peace & Justice Forum with information about nuclear weapons and power, Bradley Manning, Julian Assange, drone warfare and other issues. In a surprisingly calm space in the middle of the marquee Liz offered holistic therapies and was busy pretty much all afternoon. The WPJF Quotes Quiz was set up just outside for people to match statements about peace with their authors, as well as the Non-Violence Works Pax Christi exhibition.
Some folk made "Free Hugs" signs and got busy meeting demand. Banners covered the railings around the field, people sat on the grass and picnicked on donated food while the rain held off - which it did for the best part of the afternoon - the Faslane Peace Campers held a workshop on nuclear weapons and nonviolent resistance while performances continued on the bandstand, including songs from Joey and Laura from Heal the Last Stand, readings from Aled Lewis Evans and Paul Clifton, and peace songs (unaccompanied until someone found a lead for the keyboard!) from Sue Gilmurray, ex-chair of the Movement for the Abolition of War – the organisation that gave WPJF the Arthur Hewlett award last year and £300 that allowed us to cover some of the unavoidable expenses for these days. Friday's Peace events continued into the evening at Saith Seren cultural centre with bands Defy All Reason, the Fag Machine and Mother of Six.
Saturday 22 September
Blue sky, sunshine and a gentle breeze greeted us on Saturday morning as we arrived back on the field to set up again and, with more of the same forecast for the rest of the day, we decided not to bother with the gazebos and tents but to put up the stalls in the open. This definitely made for better outreach. We were joined by Bangor & Ynys Mon Peace & Justice Group who brought a stall including a new pile of the CND Cymru bilingual Bradley Manning briefings as well as other anti-militarist leaflets and information about the campaign against Wylfa B nuclear power station. The WPJF, Palestine, Vegan and Animal Rights stalls were there again, as well as the Give and Take and food sharing stalls.
There was a carnival happening in town the same day and the parade, complete with costumes, stilt acrobats, samba, brass band and some amazing trundling creatures - the creations of local kids - passed by on its way into town. When things started to get busy on the field after the carnival, we got the craft materials out for making windmills, ever-popular badges and other artistic works, while Wejdy decided to try his hand at face painting and had a queue all afternoon.
The day's performances began with Meilir, who had arrived at some unearthly hour having caught the only cheap train available from Cardiff. His set was followed by Red Van Man, Baby Brave, the full line up of Heal the Last Stand, The Uninvited (but they were invited) and closing with Orient Machine. Late in the afternoon, while our stage manager, roadie and everything else man Brendan was performing with the Uninvited, his son was up on the council bins with a friend, wearing their Bradley Manning stickers and offering an alternative performance on air guitar that attracted at least as much attention, including that of the band. Some time after 7pm, we packed everything up and helped to move the sound equipment over to Saith Seren for the evening performances by The Secateurs and The Dave Elwyn Band.
Photographers and a film crew from Glyndwr University were on the library field both days, at Saith Seren, and at the school on Thursday, making a record of the events. Links to their work below.
In conclusion
These events were only possible with the generosity of spirit, time, skills and energy of all the people involved. Special thanks to everyone who made the days a success – you know who you are! - but for those who don't, here's an inadequate attempt to summarise: to Bhupinder, Joey and Maria and everyone at St. Christopher's school, without whom the schools day couldn't have happened, also to everyone who came along to run a workshop, session, stall, therapies, who came to help out, or who helped in other ways with ideas and inspiration. Thanks to Brendan, who made the music side of Friday and Saturday possible, to everyone who brought a stall, donated food, performed, read, sang or did other things towards making the days a success. Thanks to the people behind the scenes who borrowed or offered tents and gazebos including the marquee crew, to everyone who helped with posters, flyers and printing, to everyone who came along on the day and took part, to the council for being supportive and to anyone else I've forgotten.
Links
Photos from Wrexham Peace Days Thu 20 - Sat 22 September 2012
By Paul Lowndes St. Christopher's School, Thu
Credit 'Paul Lowndes'
By Holly Cooper St. Christopher's school, Thu
Credit 'Holly Cooper'
By Gemma Jones St. Christopher's school, Thu
Credit 'Gemma Jones'
By Paul Lowndes Multi-faith service at bandstand, Fri
Credit 'Paul Lowndes'
By Holly Cooper Bandstand & Library Green, Fri
Credit 'Holly Cooper'
By Paul Lowndes Bandstand, Sat
Credit 'Paul Lowndes'
By Kathryn Lunt Bands at Saith Seren, Fri
Credit 'Kathryn Lunt'
By Will Aron Bands at Saith Seren, Fri
Credit 'Will Aron'
By Vertigogen On Library Green Fri & Sat
By Sue McGrane On Library Green, Sat
Credit 'Sue McGrane'
Photostory (and song) from Sat 22 September 2012:
YouTube link
Film: Heal the Last Stand from Sat 22 September 2012:
YouTube link
Photos from Saturday to follow.
peace day group


e-mail: peacedaywrexham@yahoo.co.uk

01.10.2012 22:13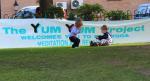 The Yum Yum Project [photo: Sue McGrane]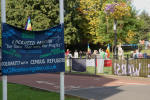 Solidarity with census refusers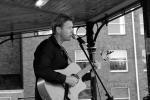 Red Van Man [photo: Sue McGrane]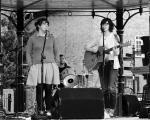 Baby Brave [photo: Sue McGrane]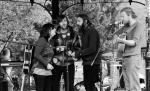 Heal the Last Stand [photo: Sue McGrane]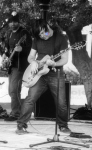 The Uninvited [photo: Paul Lowndes]
.
peace day group

---