Calais Migrant Solidarity | 27.09.2012 14:36 | Anti-racism | Migration | Repression
September's seen another round of mass evictions in Calais - a large African squat demolished and a lot of shelters by the port evicted and destroyed. Migrants and refugees, forced back onto the street, set up camp occupying a main road into the port in protest.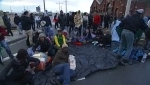 100 people block the road to the port after being evicted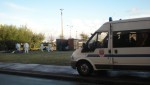 Riot&border police chaperone council workers putting people's stuff in the dump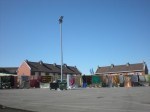 'Salam' the food distribution area before it was evicted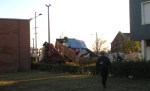 People's belongings being towed away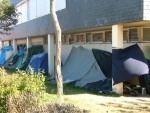 Part of the 'Lighthouse' area before it was destroyed...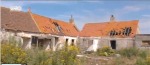 The latest Africa House before...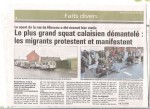 On Tuesday 25th September a hundred people set up camp in the streets to block the road to the port, after about 60+ people, mainly from Afghanistan, Iran, Egypt and Syria, had been evicted from sleeping in a concrete-yard where charities give out food.
At 6am border police (PAF) and riot police (CRS) came in huge numbers to evict 'Salam', an area where many people have been sleeping since the summer. Throughout the eviction police refused to let people take with them their blankets and sleeping bags, many of which had distributed two days before by Medicine du Monde. Instead they bring in council workers - in boiler suits and dust masks like they're conducting pest control - to put everything in the dump.
In protest people put up make-shift shelters and tents in the middle of a road to the port blocking traffic for the rest of the day amongst a thunder storm and flooding rain. Home-made banners were made and bits of cardboard reading "we are not criminals!" and lots of singing and chanting .
The next morning, Weds 26th, there was more evictions of shelters set up around the port, this time with a mass arrest of about 50 people. Most people were released later in the day but some have been taken to the detention centre.
Earlier this month, on 12th September, another long-standing squat was evicted. The squat was on route to the channel crossing, and from the detention centre, and had gained increasing number of people mainly from Sudan and Chad who had moved here after the mass evictions in the centre of Calais in the Spring. About 40 people were kicked out in the early hours and all their possessions taken to the town dump, although much of this has now been recovered. Soon after bulldozers moved in to destroy the place.
Calais' Mayor, Natacha Bouchart, since getting back from her summer holiday has been thrashing out threats, and not just at 'migrants' and No Borders. The Mayor has been demanding local associations and charities help evict people themselves otherwise she'll close down the area where the charities give out food altogether. A nice bit of bribery – turf out the homeless or she'll starve them out.
The land of the food distribution area is owned by the regional council who have not requested the intervention of the police to evict the place. But once again under the instruction of the Mayor mass evictions continue.
The town hall has also been regularly threatening a shut down a new space, for an internet cafe, workshops, language classes, bike maintenance etc for migrants and locals. They Mayor is obviously threatened by the idea of a safe space for undocumented people where community alliances can be made.
Despite relentless harassment and attacks on people's means of living and existence, the resistance continues... buildings that lay empty will be occupied, fences will be jumped over and surveillance systems will be evaded, friendships and alliances across borders will be made and the daily fight against the greed of this racist society will never end... until the day every person is free.
WHAT WE NEED IN CALAIS
People on the ground, particularly over the winter months
- supporting people find shelters to sleep
- documenting police and state harassment, evictions and attacks
- intervening in police abuse
- supporting people in detention or prison
- supporting demonstrations and actions
- holding workshops, language classes, bike maintenance, building stuff etc... come with ideas
- distributing tents, blankets, clothes, water, firewood
Donations
- Tents, tarpaulin, sleeping bags and blankets - we need lots of them.
- Decent clothes: jackets, jumpers, trousers, T shirts, hats, scarves, gloves, underwear, socks, men's shoes
- Books – in any and all languages especially, English, French, Italian, Arabic, Pashto, Farsi, Tigrinya, Amharic and Greek. Language dictionaries would be really really cool, and really well used. (We have many in German and Swedish already so don't need any more!)
- Tools/bike equipment – the bike workshop space is good but could be excellent. We need tools and other equipment and as usual more bikes and trailers.
- Phone chargers and English sim cards (Lyca and O2)
- Games – card games, board games, dominoes, footballs, basketballs, etc..
- We are in DESPERATE need of cameras… We are missing so much potential footage that could be used against the police.
- Money to keep the space running and for materials: Account name: 'Calais Migrant Solidarity', Unity Bank, sort code: 08 60 01, Account number: 20233983, IBAN code: GB11CPBK08005150073210, Swift/BIC code: CPBKGB22.
For regular updates on the situation see

http://calaismigrantsolidarity.wordpress.com
Calais Migrant Solidarity


e-mail: calais_solidarity@riseup.net


Homepage: http://calaismigrantsolidarity.wordpress.com