Lotti Rutter | 19.09.2012 16:48 | Health | Social Struggles | World
Activists protest outside UK Novartis plant in opposition to Novartis's attack on generic medicines which could jeopardise millions of lives. Novartis is pursuing a legal case against the Indian government over its decision to deny patent rights on a cancer drug, threatening the supply of affordable medicines to the world's poor.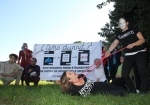 Stop AIDS Campaign activists outside Novartis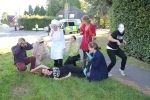 The discovery that Novartis is strangling the supply of medicines from India
Stop AIDS Campaign activists from across the UK staged a murder mystery inspired protest today outside the gates of a UK Novartis plant, demanding the Swiss pharmaceutical giant drops a court case which campaigners say could strangle the supply of affordable medicines from India to the developing world.
Novartis has been locked in an ongoing battle with the Indian government for the last six years following the rejection of a patent on a cancer drug. As the Supreme Court case moves into its second week, activists dressed as characters from the famous murder mystery game Cluedo protested outside Novartis, demanding to know "who dunnit"? Dressed as Miss Scarlett in a red evening gown, student campaigner Cat Towriss said:
"With over 80% of people receiving Indian produced generic medicines in the developing world, all clues led us to deduce that it would be 'Novartis, in the Indian Supreme Court, with Greed' that would lead to the demise of affordable medicines if they win this court case."
India is known as the 'pharmacy of the developing world' as their generic medicines industry has become vital to the health of the world's poor, with millions across Africa, Asia and South America relying on high quality, affordable Indian-produced medicines to survive.
Since 2006, Novartis has been pursuing a case against the Indian government, after India refused to grant a patent on a cancer drug. Indian patent law allows the rejection of patents on drugs which are modified versions of existing products, and are deemed not to be new innovations. Known as 'evergreening', this process is often used by pharmaceutical companies to continue to extend the patent life on vital drugs, keeping them priced out of reach for the world's poor.
Lotti Rutter, from the Stop AIDS Campaign said:
"This case is about a cancer drug, but the result will have a much wider impact on the health of poor people all around the world. If they win, the change will make it easier for drug companies to get unjustifiable extensions to their monopolies, and make it more difficult for generic companies to produce and sell the affordable generic medicines health care providers across the developing world rely on.
This is a deliberate attempt by Novartis to undermine and weaken India's patent system in order to protect their own profit margins. We cannot allow corporate greed to put millions of lives at risk. Novartis must be stopped."
Lotti Rutter


e-mail: lotti@aidsconsortium.org.uk


Homepage: stopaidscampaign.org