14.06.2012 11:12 | Afghanistan | Anti-militarism | Palestine | London | South Coast | World
Smash EDO have called for three months of direct action to close down EDO MBM - From 1st May to 1st August 2012.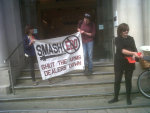 Outside Barclays in North Street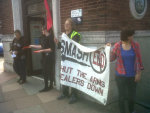 Outside Barclays in Preston Circus
A critical mass was held on Wednesday against the EDO arms factory. Cyclists converged on the level and then rode into town.
First stop was Barclays Bank on North Street, a service provider to ITT Exelis, EDO's parent company. A short picket was held. The mass progressed up to the clocktower and along Queen's Road and London Road and held another picket of Barclay at Preston Circus.
The mass then started the long slog up the Lewes Road to ITT Exelis where a noise demonstration was held at the factory gates. One crap arrest was made for obstruct police at the factory. The arresting officer told us that he was sure he had the power to arrest he just wasn't sure "which one yet". Police also nicked a sound system.
The arrestee was released on police bail at 1.30am.
The arrest today is part of an escalation of policing in the last week or so outside EDO. We need your support. We will be outside the factory, remembering the dead from Somaila to Yemen to Afghanistan, Next Wednesday from 4-6pm - we need your support