IMC UK Features | 28.01.2012 21:42 | Public sector cuts | Social Struggles
Activists protesting against the Welfare Reform Bill and cuts to disability benefits and services blockaded Oxford Street on 28th January 2012. Activists from UK Uncut and Disabled People Against the Cuts (DPAC), The Black Triangle Campaign and other disability rights groups stopped traffic on Regents Street North after a number of wheelchair users chained themselves together at around midday. A while later they were joined by people who had responded to the callout issued earlier this week.
One campaigner vividly described the effects of the state and corporate media propaganda campaign about benefit claiments in an interview:
I'm here because I want to protest against the cruel cuts that are hitting the disabled horrendously in this country, that and the horrible horrible propaganda that's been coming out from our government trying to villainise genuinely disabled people as being scroungers as being parasites, and a 75% rise in hate crimes that's come along with that, that I experience daily. Just going out shopping people come up to me and they ask me "Do you really need to be in that wheelchair? or are you, you know, just doing it for the benefits?" Like no, no, I don't know why anybody would want to in this day and age, even the pavements aren't accessible half of the time in the UK.
UK Cut explained the day before the action:
Recent reports have shown that as a result of the bill 500,000 families stand to lose their homes while others will become 'imprisoned in them'. Nearly half a million people would lose their Disability Living Allowance, including disabled children. People with terminal illnesses would be forced into work, and 3.2 million will be put through demanding tests that have already pushed some to take their own lives. According to their own research, the government's flagship reform will push 100,000 children into poverty.
Earlier this month, disability rights campaigners released the Spartacus Report, which found that the government's consultation on DLA reforms was flawed and failed to meet the state's own code of practice for consultations. furthermore, 74% of respondents in the consultation were opposed to the plans.
On arrival, the police seemed at a loss for what to do, and formed lines in front of their vans whilst busses were backed up along Regent Street. Generally those present described the coalition between anti-cuts campaigners and disability rights activists as welcome and encouraging, and calls were issued for more such actions to take place across the country. After two hours the activists decided to leave together, describing the action as an 'amazing success'
From the newswires: stop the welfare reforms - civil disobedience | 'Spartacus' Report | callout for action | Protest Outside the Disabled Rights UK Conference | ATOS macht Frei | National Day of Action against ATOS: Oxford | Nottingham
Links: DPAC | UK Uncut | Black Triangle Campaign | The Broken Of Britain | Anti ATOS Alliance
Interviews with protestors - mp3 12M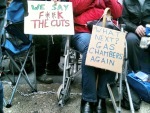 Image source: https://twitter.com/HeardinLondon/status/163240887470661634
IMC UK Features