NoCONcensus | 06.01.2012 16:10 | 2011 Census Resistance | Anti-militarism | Repression | Birmingham
It was census refuser morning in Room 19 of Birmingham Magistrates Court yesterday, 5 January. At least four defendants who pleaded not guilty had their cases adjourned to Friday 2 March. One case was thrown out after the prosecution failed to demonstrate that the defendant had a liability to complete the form. Some defendants were found guilty in their absence and fines were imposed. Supporters sat in on the hearings and held a demonstration (solidarity with defendants and against Lockheed Martin and all wars) outside the court entrance.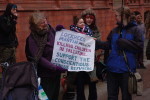 Lockheed Martin products kill children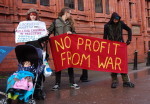 End the arms trade (and all wars)
BACKGROUND
See these previous newswire articles and feature:
Birmingham:

https://www.indymedia.org.uk/en/2011/11/488714.html
Liverpool:

https://www.indymedia.org.uk/en/2011/12/489963.html
Liverpool:

https://indymedia.org.uk/en/2011/12/490013.html
Wrexham:

https://www.indymedia.org.uk/en/2011/11/488393.html
Wrexham:

http://www.indymedia.org.uk/en/2011/11/488486.html
Feature:

https://www.indymedia.org.uk/en/2011/11/488424.html
AT COURT YESTERDAY
Census refusers Huey (aka Marcus) and Vicky from Birmingham and Roger from Leamington Spa entered pleas of 'not guilty' to the charges and their trials were all set for 2 March. One other defendant had written to the court with a 'not guilty' plea and that case was adjourned to the same date.
Supporters came from Wirral and North Wales, Wolverhampton, Coventry and Leicester as well as Birmingham. They included Penny and Beth of Coventry Peace House, who publicly expressed their conscientious objection to completing the census by burning their forms as reported here:

http://www.bbc.co.uk/news/uk-england-coventry-warwickshire-12833585
They signed a statement at the time:
"We are refusing to fill out our census form in protest at the British Government for contracting American arms manufacturer Lockheed Martin to run it - one of the largest arms companies in the world. They have been paid £150 million, the profits of which will further their organisation.
"Lockheed Martin make a range of weapons such as cluster bombs, British Trident Nuclear Missiles and F16 fighter jets which have been sold to 25 countries including Israel and Bahrain. They are also engaged in surveillance and data processing for the CIA and provided contract interrogators to the Abu Ghraib prison in Iraq and Guantanamo Bay in Cuba.
"Lockheed Martin UK is part of the US giant. The contract could have been given to local authorities or to British companies with an ethical remit.
"It is essential that the British Government recognise that it matters a great deal how they spend taxpayers money. A country which claims to respect human rights cannot engage arms manufacturers to carry out its civil duties.
"We are prepared to make this stand and face prosecution for civil disobedience in solidarity with those oppressed and killed by the weapons they make."
To date, none of them have been prosecuted for their refusal.
NoCONcensus


e-mail: NoCONcensus[at]yahoo.co.uk