Matt Salusbury | 09.11.2011 10:04 | Social Struggles | Workers' Movements
Report of the electricians demo early this morning that started of today's (9 November) day of action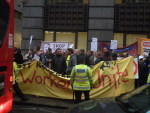 Students & Workers Unite banner, Bishopsgate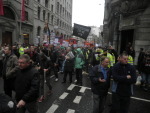 March from Bishopsgate to Cannon St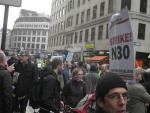 Cannon St demo in street with police cordon
Electricians protesting proposed cuts to their wages of up to 35 per cent started today's (Wednesday 9 November) day of action in London.
The "sparks" (electricians) and their supporters assembled across the road from the Pinnacle site in Bishopsgate in The City just down the road from Liverpool St Station from 7pm. Currently a huge hole in the ground with lots of really big diggers on it, the Pinnacle is going to be yet another prestigious City office block. The construction company, Brookfield Multiplex is one of the 'dirty seven' big building firms threatening to pull out of the current JIB agreement on wages for workers, and to impose its own system that will result in big wage cuts.
There were between 100 and 200 (hard to tell exactly) sparks and their supporters at the demo on Bishopsgate shortly after 7am. Some sparks had come all the way from Newcastle for the day. The supporters were mostly Trots to start with (their ability to get up early seems to be greater than some other groups) but gradually a more diverse group of supporters turned up, including a sound system. Some of the Education Activists Network were present, with a big 'Students and Workers Unite' banner.
The demo moved off at around 8.45 to another 'dirty seven' site, the half-finished office block at 110 Cannon Street, in the heart of the financial district, run by construction company Chorus. Work started at the Pinnacle site shortly after the demo left, and there were some builders already at work at 11 Cannon St.
Demonstrators blocked traffic, with the Met and City Police forces closing the street with loose cordons and blocking the street at one end with several vans. Rush hour City traffic ground to a halt, with buses backed up all the way down Cannon Street. One electrician urged the crowd, "If you have a smart-phone, get on to the BBC now" to tell them what's happening. Several demonstrators complained of a mainstream media blackout of recent direct action by electricians, one told me of an action in Cannon Street last week that was apparently ignored by a passing ITN team.
As of just before 9am, the demo moved off towards another 'dirty seven' company site in Blackfriars, after which there are plans to visit The Shard building site South of the river before linking up with the students. As a result of direct action by the sparks, MJ Coulson, another company that threatened to join the plan to 'deskill' its workers and cut their wages, has already backed down.
The City Police look like they're expecting to have to deal with some very fast-moving, mobile actions for the rest of the day. A large number of driverless City Police cars (not vans, cars) and riderless City Police motorcycles were parked at the way down Bishopsgate.
Matt Salusbury
Photos copyright Matt Salusbury, licenced for non-commercial uses at no cost
Matt Salusbury


e-mail: mattsal@gn.apc.org


Homepage: http://mattsalusbury.blogspot.com