Jess | 13.09.2011 20:51 | Anti-Nuclear | Anti-militarism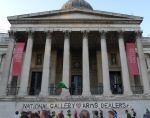 Arms dealers schmooze with National Gallery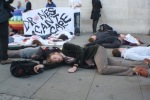 Protesters die-in outside National Gallery
Protesters unfurled giant banners, verbally shamed arms dealers and staged a die-in and at the National Gallery in Trafalgar Square to protest about weapons dealers and buyers from the DSEi (Defence and Security Equipment International) attending the major gallery for a lavish drinks reception. The DSEi is the largest arms fair in the world hosted by the UK Government every 2 years at the Excel centre in Londons Docklands. Many of the companies who attend the arms fair are accused of moral impunity in their sales to repressive regimes such as Bahrain, Saudi Arabia and Egypt. Protesters also attempted to expose the collusion between the National Gallery and the arms trade. The National Gallery's corporate benefactors include Finmeccanica, Italy's biggest arms company, which enabled the weapons fair drinks reception to be held at the gallery.
As delegates attempted to enter the building to talk business, protesters repeatedly shouted 'shame on you' close-up as a sound system played a disturbing soundscape of bomb and gunshot sounds, whilst people lay on the ground feigning death...
Stella from Newham says: I'm shocked to discover the National Gallery is supporting the arms trade, It has made me view the gallery in a whole new light.
The action was part of a week of action against the DSEi.
For more actions this week
www.stopthearmsfair.org.uk/
www.dsei.org
Contact

info@stopthearmsfair.org.uk
Jess


e-mail: info@stopthearmsfair.org


Homepage: www.stopthearmsfair.org.uk/