vg | 07.08.2011 08:52 | Anti-Nuclear | Palestine | Public sector cuts | Liverpool
A Day for Palestine was held in Chester Town Hall Square on Saturday 6 August. Taking up most of the square, three large gazebos housed film screenings, an art display and a stall for Palestine as well as an anti-nuclear stall for Hiroshima Day and, for the hour or so I was there, the whole event was attracting lots of interest from both locals and tourists.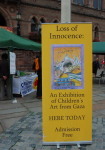 Loss of Innocence exhibition of children's art from Gaza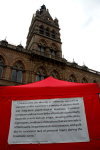 explanation on the side of the exhibition tent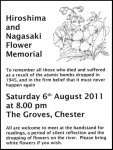 Poster for Hiroshima and Nagasaki remembrance event
In the film tent, a full length documentary 'The Zionist Story' was showing to a fluid audience, with some people just sitting down for a few minutes or watching from outside and others settling themselves down for the duration. The film sets out the story of how and why Israel came to occupy Gaza. It was made by an Israeli ex-soldier "Berek Joselewicz" (Ronen Berelovich), who writes: "In my documentary I approach the subject from the perspective of an Israeli, ex-reserve soldier and someone who has spent his entire life in the shadow of Zionism" and "...not just the history of the Israeli/Palestinian conflict, but also the core reason for it: the Zionist ideology, its goals (past and present) and its firm grip not only on Israeli society, but also, increasingly, on the perception of Middle East issues in Western democracies."
A moving display of 50 hand drawn pictures by Gaza children, along with explanatory texts for adults and children, made up an exhibition called 'Loss of Innocence' in another tent. The pictures were collected by Rod Cox of 'Chester and Palestine Exchanges' (CAPE) and were drawn by children as part of a trauma reduction programme just after the bombing and invasion in 2009. The exhibition has been touring for about two years and is available for groups to book.

http://www.cape.uk.net/
A gazebo between the two main tents housed a stall selling fairly traded Palestinian produce and, as it was Hiroshima Day, there was also an anti-nuclear stall with information about campaigns against nuclear weapons, new (and old) nuclear power and nuclear waste dumps. The stall was also advertising the yearly Hiroshima remembrance event organised by local Quakers which was taking place in the evening.
There appears to be something of a resurgence of street campaigning in Chester. As I walked away from this event towards the Cross, I came across a lively anti-cuts stall too.
vg