Bobby | 03.08.2011 12:00 | Rossport Solidarity
This week saw Shell begin the next stage of their gas project by attempting to extend and secure their compound in Aughoose in preparation to lay the onshore section of the pipeline. This entailed tractors delivering fencing, machinery and other things for them to carry out the work. If all had gone to plan would have had the compound near completion now. However, there was five days of 12 hour blockades which has slowed them down tremendously. Here's a quick round up of the events of last week...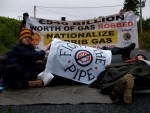 8 hours locked on still defiant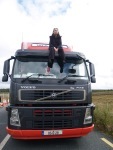 1 of probably 50 trucks mounted last week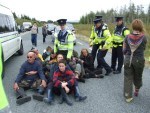 Rolling blockade which made the tractor reverse into refinery
The week started Monday 25th July at 7am with a tripod which lasted over five hours. The protester was removed using scaffolding. The afternoon was spent causing chaos on bikes and on foot with the cops eventually needing to seize bikes in order to stop the protesters. At most ten tractors made the journey to the compound, all having been delayed. Shell made a statement on the radio that their work had been "severely impeded". Not bad for the first day.
At 7am on Tuesday there was an arm tube lock-on which lasted well over an hour. No arrests were made. Only 2 tractors made it into the compound before midday. The rest of the day was spent hiding in ditches and jumping out in front of and onto tractors with one person spending over an hour and a half on top of a tractor before being forcibly removed and arrested. Shell had still had less than 20 deliveries to the compound so far in the week.
Wednesday saw an 8 hour lock-on from 7am. Two individuals were arrested under public order charges. The Gardai (police) had stepped up their 'protection' of the tractors and were providing a tight convoy for each tractor. At some points there was two paddy wagons, two squad cars, a cutting team, an IRMS jeep and detective Brett Nolan's undercover vehicle escorting each tractor. The Gardai were being ordered to get out of their vehicles and run alongside the tractor in order to try and stop the people hopping aboard. Despite this people were able to mount most tractors that went by and less than ten tractors made their deliveries by 7pm.
On Thursday the first tractor was stopped by someone climbing onto the cab. Pleasingly this lasted for two and a half hours, with the individual managing to jump the fence and get away without being arrested. With some fine communication and coordination, as the next tractor made its journey from the refinery to the new compound a group created a decoy by appearing to attempt to get on the tractor. However unbeknown to the cops this was merely a distraction as the tripod was being set up just a couple of hundred metres up the road. After the sounds of a battle cry in the distance the group of protesters causing chaos responded and ran up the road with the Gardai looking somewhat baffled. As the tripod was established a call went out to another group who were situated over in Crossmolina (a town 45 minutes from the camp)where the scaffolding firm are based. They blockaded the scaffolding firms gates for a couple of hours. No arrests were made. The tripod was eventually dismantled at around 3pm so people gathered at the refinery gates. Numbers grew and morale was high. When the next tractor was brought out chaos ensued. One protester climbed on the cab and after 20 minutes was forcibly removed and arrested. This was followed by another protester climbing underneath the same tractor. They were removed after about 15 minutes but managed to avoid arrest. This was followed by a rolling blockade on the road with people sitting down, being removed then sitting straight back down. After about 40 minutes the tractor reversed back into the refinery. The elation among folk was amazing. The cops looking defeated got in their vehicles and left. There was real celebration with a feeling that this had been one of the strongest days of the campaign. It was 5.15pm and work wasn't due to finish until 7pm. A group stayed at the refinery to ensure nothing came out...it didn't. Two trucks made deliveries on Thursday.
Friday was the mass day of action. Due to this Shell had already cancelled work for the day. Protesters made their way down to the compound at around 9.30. Some protesters made it into the compound whilst others tore down fences. There was a huge Gardai presence and approximately 80 IRMS (Shell's private security). A second attempt was made later in the day to pull down more fences which ended in several people being hurt and requiring hospital treatment. Despite this people remained at the compound , many spending the afternoon playing music and relaxing on the road. Despite the injuries it was felt it was a great day and that by having the day of action our work was already done as Shell didn't work.
Shell's first week of work did not go to plan. After studying their traffic management plan , which outlines their predicted truck movements over the 26 month period that they intend to complete the project, it appears that at this stage their aim was to be making 159 truck movements per day! Last week in total they had approximately 40.
There feels like a real buzz in the campaign at the moment! The Gardaí are appearing stretched and are using up a lot of their resources. They are having to change their tactics daily and despite their efforts and ludicrous protection of Shell's vehicles protesters are still managing to cause huge disruption.
If people can come up,now really feels like the time! To maintain this strong resistance we need people and ideas. There is so much to do on camp at the moment. Not only is there protests but camp life is always busy and full of things to do.
For more information call us on 0851141170 and email

rossportsolidaritycamp@gmail.com
Bobby


e-mail: rossportsolidaritycamp@gmail.com


Homepage: www.rossportsolidaritycamp.org