Bob | 27.07.2011 08:23 | Rossport Solidarity
A variety of actions have been taking place all day in order to delay Shell's expansion and securing of their new compound. Protests and blockades from 7am to 7pm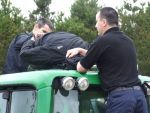 Forcibly removing from tractor
On Tuesday 26th July the actions against Shell's proposed high pressure gas pipeline began at 7am in the morning with 6 people blocking the road with an arm tube lock on. No arrests were made. This was followed by multiple blockades of tractors and equipment bound for the Aughoose compound. Currently Shell are working on securing their compound by putting up stronger fences, laying bog mats and bringing in machinery. This is in preparation for the peat removal from the area in order to begin laying the pipe.
People have been climbing up on the back of flat bed trailers and on top of various tractors and trucks. One person was on top of a tractor for over an hour and a half before being forcibly removed and arrested by the Gardai (police) who have been traveling in convoy 'protecting' the tractors all day.
Only 2 loads were successfully delivered to the compound before midday. This afternoon has seen continuous disruption of the deliveries, with people hiding along the road and jumping out/on the convoy to force it to stop.
One local person successfully blocked the road by climbing up on top of a lorry directly in front of the compound.
Its been another long and amazing day. It is becoming clear that the Gardaí are finding the intensity of the protests frustrating and that they seem reluctant to make arrests. It remains to be seen whether they will be able to keep this level of policing up but it is clearly exhausting all of their resources.
This is a critical time in the the campaign and to keep this kind of protests going we need more people! There is a mass Day of Action this Friday 29th July. If you can come up sooner or stay for longer it would be great!
For more information call 085 1141170 or check out www.rossportsolidaritycamp.org or

rossportsolidaritycamp@gmail.org
Bob


e-mail: rossportsolidaritycamp@gmail.com


Homepage: www.rossportsolidaritycamp.org