sub | 27.06.2011 08:44 | Anti-militarism | Repression | Terror War
Calling all anti-war activists, campaigners for free speech, truth and justice.
Julian Assange needs your support from 9am on 12 & 13 July at the High Court in London, where his appeal against extradition to Sweden will be heard.

Leaflet - application/pdf 162K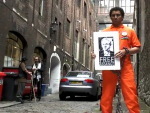 Assange Subterranean Homesick Blues
Another war in another time and another place.
Same lies. Same repression.
YOUTUBE (6 mins) 'Assange Subterranean Homesick Blues'

http://www.youtube.com/watch?v=tGb9pqcz3_Y
Join us in a solidarity vigil with Julian Assange and in opposition to the wars
at the High Court London from 9am Tuesday July 12th and Wednesday July 13th.
Download and distribute leaflets:

http://wiseupforbradleymanning.wordpress.com/2011/06/06/new-support-whistle-blowers-leaflet-for-download/
More info contact Ciaron O'Reilly
Ph. 079 392 90576
Email: ciaronx AT yahoo.com
sub


e-mail: wiseupforbm[at]yahoo.com