Solar Flare | 20.03.2011 21:59 | Repression | Terror War | World
A demonstration was held outside the US Embassy in London today in solidarity with Wikileaks whistle-blower Bradley Manning as part of a day of action around the world, including in the US and other parts of the Europe and the UK. Around 80 people attended.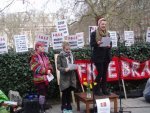 Solidarity from young people from Wales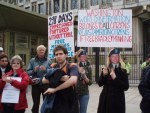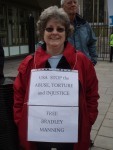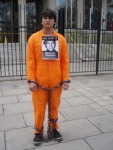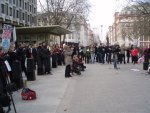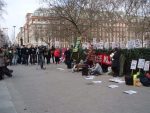 London Solidarity in Day of Action for Bradley Manning
Demonstration:
A demonstration was held outside the US Embassy in London today in solidarity with Wikileaks whistle-blower Bradley Manning as part of a day of action around the world, including in the US and other parts of Europe and the UK. Around 80 people attended.
Bradley Manning is a dual US-UK national. His mother is Welsh and he attended secondary school in Pembrokeshire. The British government must thus make representations for him. Welsh campaigners joined the demonstration. Plaid Cymru has shown its support for Manning and Labour MP Ann Clywd has compared his detention to that of Guantanamo Bay prisoners. Young people from Pembrokeshire joined in and asked why he was facing such abuse when no evidence had been presented to back up the charges. One young woman stated that when it becomes "illegal to [act to] stop the killing of innocent people in Iraq, we need to question the laws we have".
The demonstration was also addressed by Bruce Kent (vice-president, CND) and former SAS soldier Ben Griffin. Griffin, who had refused to return to the illegal war in Iraq, said that while people had been optimistic when Obama became president, we are now seeing a more secret war – Guantanamo Bay is still open, extraordinary rendition is still happening, extrajudicial killings and drone attacks in Pakistan are increasing. He stated that the treatment of Bradley Manning was a direct result of the normalisation of the behaviour of the US around the world, such as in Afghanistan and the Middle East, over the past ten years. He praised Manning as a "brave young man".
Loz Kaye, from the UK Pirate Party [

http://www.pirateparty.org.uk/
] also compared his treatment to that of Guantanamo Bay prisoners. He criticised the government for its failure to act over the torture of a British citizen and demanded that if nothing else, Manning should at least have consular access which he has thus far been denied and that a full debate should be held in parliament on his case. He stated that Manning's case has been "calculated to scare off those working for transparency".
Human rights activist Peter Tatchell said that the issue was essentially that we have a right to know what the government is doing in our name. He also demanded that the government must act for Manning who is "not a law breaker but a law enforcer", citing the law breakers as being the governments who have acted illegally "in our name".
The main part of the demonstration ended with a reading of a recent letter by Manning describing his treatment and a minute's silence.
Who is Bradley Manning?
Manning, a 23-year old intelligence analyst in the US army was arrested in Iraq in May 2010 accused of having passed confidential data to the Wikileaks website. He was charged in July 2010 with 12 counts of illegally downloading and sharing confidential military data with an authorised source. The military video he is alleged to have shared illegally, showing the killing of 11 people in Baghdad in 2007, features at the beginning of John Pilger's 2010 documentary film The War You Don't See [

http://www.johnpilger.com/videos/the-war-you-dont-see-trailer
]. A further 22 charges have since been brought, including that of "assisting the enemy", which carries the death penalty. While prosecutors say that they are not seeking this punishment, if convicted, he faces the prospect of life in jail. Almost a year on, he has yet to be tried. He is alleged to have leaked over 700,000 documents.
Since July 2010, he has been held at the Quantico military jail in Virginia as a "maximum custody detainee". According to the UK Friends of Bradley Manning campaign, he has been "held in solitary confinement for almost eight months under conditions best described as torture […]. He is alone in 12' x 6' windowless room for 23 hours a day. For one hour he is escorted in shackles to another room where he can walk in a circle"". Moreover, since 2 March, he "has been stripped of his clothing at night and forced to stand naked for morning roll call". His conditions of detention – without trial – have been compared to those he has helped to expose of prisoners in the "war on terror" in Iraq, Guantanamo Bay and elsewhere.
What can you do?
- Get your MP to sign EDM 1624:

http://www.parliament.uk/edm/2010-11/1624
[treatment of Bradley Manning] – also write to your MP to ask for consular access for Manning as a British citizen. The UK Friends of Bradley Manning Campaign is asking the UK government to put diplomatic pressure on the US government.
- Ciaron O'Reilly from Catholic Worker spoke about the importance of writing to prisoners and the difference it can make to them. Write to Bradley Manning. Other speakers spoke about the difficult his family, in particular his mother who has suffered a number of strokes, are going through. You can also write to them.
- Write to the press – pressure from his support campaign got the mainstream press to report the abuse of a British citizen.
- Sign the petition to free Bradley Manning at www.bradleymanning.org
- For more details on how to get involved: www.ukfriendsofbradleymanning.org
Solar Flare