Rossport Solidarity Camp | 11.03.2011 11:19 | Rossport Solidarity | Energy Crisis | History | Ocean Defence | World
6 members of the Rossport Solidarity Camp attempted to stop Shell work on the proposed site for the Glengad compound today.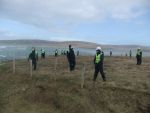 Massive increase in security presence to protect a strimmer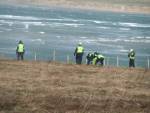 Protester held to ground and sat on by IRMS security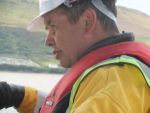 IRMS Security Guard Edward Tobin
Shell workers were trimming grass in preparation for building work. Despite there only being 3 workers, Shell deemed it necessary to get 20 IRMS security to guard the land. The protesters attempted to get into the field but were assaulted by IRMS security. Protesters were pushed to the floor and threatened with further violence. One person had a member of IRMS security sit on his back whilst been assaulted and held to the ground. At one point a member of the IRMS named Edward Tobin said to one of the protesters "You should be careful, there are no cameras around and i would love to break your nose."
Since becoming an IRMS supervisor, he's started to use threatening comments quite a bit. His photo and ID are below.
Also at another stage one of the IRMS supervisors also had said to an new recruit who at the time was sitting on a protester "No don't sit on his back, just hold him on the ground"
The increased presence of the IRMS indicates that the preparatory work that Shell are carrying out is vital to the project.
In order to continue disrupting this work we need more people to come up to the camp. Shell still need to complete their survey work before they can build anything and its very easy to stop.
For anyone thinking about visiting the area, get in touch with the camp at

rossportsolidaritycamp@gmail.com
Rossport Solidarity Camp


e-mail: rossportsolidaritycamp@gmail.com


Homepage: http://www.rossportsolidaritycamp.org/