Cairo Rising | 08.02.2011 11:42 | Anti-militarism | Repression | Social Struggles | World
"We will rip freedom from the throat of Mubarak"
Young man, Tahrir Square, 07/02/2011

"We have seen our friends killed here in Tahrir Square. After that how can we leave now, before the revolution succeeds"
Man in his mid twenties, Tahrir Square – 07/02/2011
Mourning for the martyrs of Tahrir Square and of the Egyptian uprising continued yesterday. Banners bearing the images of the martyrs were hung in the square. One Bilal Salem Ayesh Mahmud, ten years old, was killed during the uprising in Rafah. Fourteen demonstrators have been killed in Tahrir Square, and over 300 have been martyred during the uprising.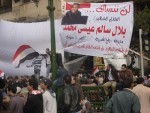 Remembering Bilal Salem Ayesh Mahmud - Martyred in Rafah
Today the demonstrators are expecting a million strong demonstration in Tahrir Square, following on from last Tuesday's huge demonstration, which lead to Mubarak's announcement that he would not stand in the next election. Some of the occupiers expressed concern that the demonstration would be attacked again, like it was last Wednesday.
Cairo Rising