Animal Rights Cambridge | 07.02.2011 23:11 | Animal Liberation | Repression | Social Struggles | Cambridge | World
PC Paul Adams: "I've just received complaints of you being abusive"
Activist: "What were we accused of saying?"
PC Paul Adams: "They sell fur!"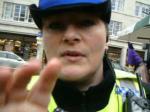 PCSO 'I'll prosecute you' Neill
Protest video here:

http://www.youtube.com/watch?v=bijyHLf5eMk
On Friday 4th Feb protesters were back outside Dixie's Vintage market stall in Cambridge over their sale of fur. Activists came armed with a new petition calling on the Council to ban the sale of fur on their land, which would effectively prevent Dixie's from continuing to sell real fur items.
Public support was great as usual with plenty of signatures gathered. Amnesty International campaigners stopped by to sign the petition as well and the anti-fur activists signed theirs.
PCSO Diana Neill 7240 arrived on the scene, her attitude was abrasive and she objected to her collar number being filmed. PCSO Neill proceeded to spend her paid working hours browsing the stall and asking the prices of various items. The PCSO tried to dissuade activists from publishing her picture by claiming she would 'prosecute you' – no wonder one Council employee once referred to her as 'very stupid'!
She called in Riot squad cop PC Paul Adams 1241 who is the Neighbourhood Policing Constable for the West of the City. He started by demanding an activist's details, attempting to misuse Section 50 of the Police Reform Act – his request was refused. After standing in the middle of the road , obstructing a public highway he returned claiming that a female activist had been abusive about the stall. Pushed on what the abusive comments were he responded 'they sell fur'! Activists concur that the sale of fur is indeed offensive but in this case it was simply a statement of fact!
He later returned demanding to know when the activists were leaving. When they refused to tell him he told a female activist that he would stand in her face until she left. The video camera was then switched on and his attitude soon changed!
Adams even saw fit to tell a passer-by that the peaceful activists had links to 'terrorism'!
This sort of police intimidation will never prevent us from fighting the cruel, abusive fur trade. Please show your support by speaking to Dixie's market stall and asking them to go fur free.
Animal Rights Cambridge


Homepage: http://animalrightscambridge.webs.com/