Keith Parkins | 26.10.2010 15:26 | Palestine | World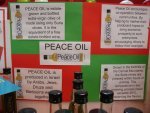 Peace Oil all working happily together
A few years ago I was at the Beyond TV International Film Festival in Swansea. A few of the film-makers had been in Palestine filming and helping to bring in the olive harvest. They brought back with them olive oil. It was one of the best olive oils I had tasted. I always regretted I had not brought any back home with me.

http://www.indymedia.org.uk/en/2004/11/301916.html
During the summer I learnt that Holy Trinity and St Mary's Church in Guildford were expecting a consignement of Palestinian oil. But I have never been able to get my hands on any.

http://www.holytrinityguildford.org.uk/

http://www.heureka.clara.net/surrey-hants/gu-ford.htm
I was therefore very pleased to walk into St Mary's Church last week and find Peace Oil on sale. I bought for Christmas presents two bottles of what I thought was Palestinian olive oil.
Peace Oil is an olive oil from Israel. It is a high quality, single estate, cold pressed extra virgin olive oil. It is produced by Druze, Jews, Arabs and Bedouin working together (but not a cooperative). The trees are in the foothills of the Carmel Mountains. The olives are cold pressed within hours of being picked. Not cheap, but then the monies raised (it is claimed) goes to help support peace and reconciliation work in the Middle East.
Strange no fairtrade logo for all that is claimed!
The more I looked the more concerned I become. It is not as claimed, the different groups working together. It is an Israeli farmer employing cheap labour. It is not certified organic on the ludicrous grounds it cannot be as neighbouring farms are not organic! It is promoted by Zionist groups, on sale at a trade fair which also had property in occupied territories.
It is not, as I thought, the church selling Peace Oil, but Card Aid who are in the church in the run-up to Christmas. Questions of Card Aid have hit a brick wall. They are very defensive which of itself is suspicious. Where does the money go? They cannot say as too sensitive. And yes they are all working together because the Jews are employing the Palestinians!
A total lack of transparency, coupled with highly misleading claims.
Card Aid has pre-Christmas shops in London and the Home Counties. Please go in and ask question. Do not be fobbed off.

http://www.cardaid.co.uk/cardaid_shops
Is it a mere coincidence that Peace Oil was launched with a massive advertising budget (ads on the Tube do not come cheap) at the same time Zaytoun olive oil was launched?
Zaytoun olive is Palestinian oil. Zaytoun is a non-profit organisation established to support Palestinian farming communities by helping to increase the market for their olive oil products internationally, and also by helping the farmers themselves improve the quality of their oil through training and equipment provision. Zaytoun is supported by UK charity War on Want amongst others. They were awarded Fairtrade certification for their olive oil in March 2009.

http://www.zaytoun.org/
Does anyone know anything about this olive oil? I bought it in good faith believing it was the Palestinian oil that St Mary's and Holy Trinity Church brought over in the summer. But to my horror I found it was Israeli oil. The more I look, the more concerned I become. If anyone has first hand information from Israel or Occupied Palestine, that would be very helpful. In the meantime, I am asking the church to have this oil withdrawn until such time as we can get straight answers.
Also see
Peace Oil

http://keithpp.wordpress.com/2010/10/23/peace-oil/
"Peace" oil?

http://jewssansfrontieres.blogspot.com/2007/12/peace-oil.html
Al Zaytouna awarded Fairtrade mark

http://www.waronwant.org/news/latest-news/16482-al-zaytouna-is-awarded-fair-trade-mark
Keith Parkins