Rossport Solidarity Camp | 28.08.2010 17:49 | Rossport Solidarity | Ecology | Ocean Defence | Social Struggles | World

Dawn Raid on the drilling rigs begins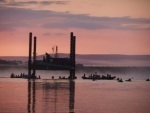 Stopping workers getting on and watching the sun rise!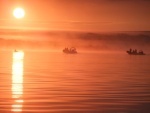 The sun salutes the brave and true kayack warriors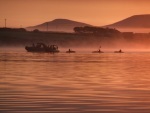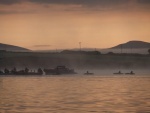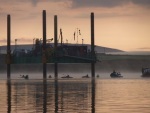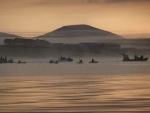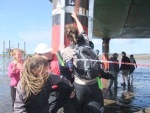 After Mondays successful action stopping work for 3 hours the camp was inspired and many actions followed.
Tuesday marked the start of an oral hearing into whether shell can lay the gas pipe line through the estuary. This gave locals and campers the chance to question shell and Bord Pleanála about the legality of gas pipe line and other issues surrounding the pipe.
The bore holes that shell are drilling are to extract information that will determine whether a tunnel can be made for the gas pipe line to run through, however the fact that this information hasn't been collected yet did not affect shells application or claim that the pipe line will be completely safe.
This oral hearing combined with an action packed week put pressure on shell from all directions.
Wednesday saw a group occupy the Shell's security compound that turned into a picnic and revelations of IRMS reading material (mercenary uk) and eating habits (loads of biscuits).
As Thursday morning broke a group set off towards the sunrise (and the drilling rigs) occupying security and stopping workers from getting onto the platform for over an hour. After the success of this action a community walk out happened later in the day when low tide allowed people to walk out under the platform. Despite people gathering under the platform drilling continued, which is against health and safety rules.
Attempts to stop the platforms being moved on friday were foiled by over zealous security. Despite many courageous endeavour to climb the legs of the platform security turned violent and many were thrown to the ground.
Beat the Boreholes Campaign continues and we welcome anyone wanting to get involved.

http://www.irishtimes.com/newspaper/ireland/2010/0825/1....html
Rossport Solidarity Camp