Tim Dalinian Jones | 05.05.2010 17:51 | Anti-militarism | Free Spaces | Workers' Movements | South Coast
Dateline: Democracy Village, Parliament Square, London, UK, 12:00-Late, Thu 06 Mat 10 – As the boss class's 'Electoral Circus' grapples with performance anxiety, the participatory democratic will of the people gains expression through a collective Peace Festival at the ever-expanding Democracy Village, camped out on the very doorstep of the House of Conmens in Parliament Square.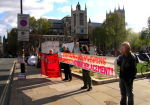 B1. Ditch the Nukes, Demands Democracy Village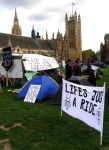 B2. A Democracy Village juxtaposed to the House of Conmens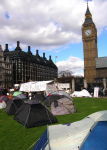 B3. The Democracy Village Clock Tower
NEVER MIND THE ELECTION BOLLOX, HERE'S THE PEACE FESTIVAL
• Democracy Village Peace Festival
• Thursday 06 May 2010, 12:00 noon till late
Here's one of the Peace Festival call outs:
SOLDIERS! YOUR GOVERNMENT SUPPORTS YOU! COME HOME ALIVE!
Following the Mayday People's Assembly which decreed that the War in Afghanistan is at an end, Parliament Square is now occupied to ensure implementation of this legislation by the people.
On Saturday May 1, the Peace Strike Campaign invited the people to set up a Democracy Village to occupy the Square until the troops are home. On Thursday May 6, the Democracy Village will hold a Peace Festival from 12 noon to celebrate cancellation of the fraudulent election.
As the seat of the incoming Grassroots Government, the Democracy Village calls on all citizens to join the Government and bring their concerns. The puppet politicians at Westminster have failed to represent the views of the majority of people. Therefore we have been forced to take power to defend jobs, homes and pensions; to act on climate change; to liquidate the banks into one People's Bank; to reclaim Time – Time for Life.
But first of all, to end this pointless war.
Soldiers! You have a choice at this election.
One government sends you to death!
The Grassroots Government commands you to COME HOME ALIVE!
Issued by the Joint Council of
The Democracy Village; The Labour Party; Election Meltdown; Peace Strike Campaign; Kew Eco Village; Right To Work Network; Can't Pay, Won't Pay Greek Solidarity Campaign; Stop The War Coalition; United Campaign Against Police Violence; The Government of the Dead; International Union of Sex Workers;Whitechapel Anarchists Group; Class War; The Servicemen's Union; Manchester Unemployed Workers Network; Rising Tide UK
[source: Democracy Village Peace Festival, Facebook event –

http://www.facebook.com/event.php?eid=120605994624298
]
For more info phone or text:
• Camilla – 07 962 889 459
• Maria – 07 886 662 091
» email –

democracyvillage@gmail.com
» Facebook group –

http://www.facebook.com/group.php?gid=113998618637971
» IMC LDN event –

http://london.indymedia.org.uk/events/4715
» 'Demockracy Village in Parliament Square' by Rikki –

http://london.indymedia.org.uk/articles/4709
WHATEVER NEXT?
• Democracy Village Hometree and People's Assembly for Grassroots Government
• Saturday 08 May 2010 from 13:00 onwards
PLANTING THE ROYAL OAK -- HOMETREE OF GRASSROOTS GOVERNMENT
You are all invited to a Druidic ceremony to be held in Parliament Square on Saturday May 8th at 1.00 pm. This will mark the formal opening of Democracy Village as our new Seat of Grassroots Government.
At 2.00 pm will open the People's Assembly. Edicts on Land, Finance, Climate and War will be submitted by the Grassroots Government and debated within the House. At midnight, all consensual outcomes will seek Royal Approval Under the Tree, thus becoming the Law of the Land.
(King) Arthur Pendragon*
Blessed Be
'When Everyone is King, No-one is King!'
[source: Facebook event –

http://www.facebook.com/event.php?eid=114591488579830
]
» Calling out for Peoples' Assemblies –

http://meltdown.uk.net/election/Peoples_Assemblies.html
Up the Revolution,
Tim Dalinian Jones
Footnotes
All these photos and video clips are 'CopyLeft'
This means you are free to copy and distribute any of my photos and videos you find here, under the following license:
• Creative Commons Attribution-Noncommercial-Share Alike 3.0 Unported License
»

http://creativecommons.org/licenses/by-nc-sa/3.0/
» Accreditation:

tim.dalinian.jones@gmail.com
NB: These pix are edited and downsized versions (up to 800x800px, 0.64Mpx, typically 100-900 KB) for onscreen display. If you would like the free, edited, full-sized versions (up to 3072x2304px, 7.1Mpx, typically 1-2 MB) for print, poster, placard, banner, etc, please email your request to tim.dalinian.jones [at] gmail.com quoting the picture title(s) you'd like.
Tim Dalinian Jones


e-mail: democracyvillage@gmail.com


Homepage: http://fb.me/tim.dalinian.jones