One of NoBorders | 21.02.2010 21:11 | Migration
Activists from No Borders London, Campaign Against Immigration Controls and Feminist Fightback today held a protest at Yarl's Wood immigration prison in solidarity with women detainees who have been on hunger strike since 5th February. The protesters managed to get past the security barriers and walk around the barbed-wire fence with banners, shouting solidarity slogans via loudspeakers and making noise with pots and whistles for well over an hour. They were repeatedly cheered by detainees inside, who waved their hands through half-open windows and displayed hand-written placards expressing their suffering.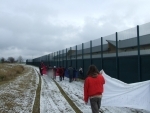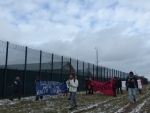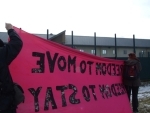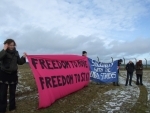 facing one of the wings where detainees could see and hear the protest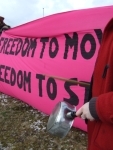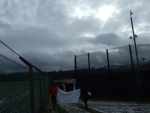 who said there is no freedom to protest any more?!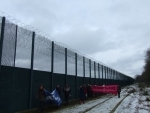 For more details, see the press release at

http://www.indymedia.org.uk/en/2010/02/446465.html
One of NoBorders