Dan Viesnik | 30.01.2010 17:39 | Anti-militarism
On Monday (1st February) I am due to appear at Highbury Corner Magistrates' Court in London for refusing to pay a fine of £50 and £465 in costs resulting from a peaceful symbolic sit-down protest in July 2007 outside the Atomic Weapons Establishment at Aldermaston, Berkshire - Britain's nuclear warhead manufacturing and research facility - during the Footprints for Peace International Walk towards a Nuclear-Free Future from Dublin to London.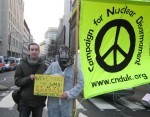 At the Blair at the Iraq inquiry demo, 29 Jan 2010 - pic by C. Wood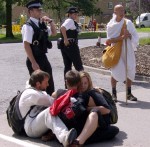 Sit-down protest at AWE Aldermaston, 27 July 2007 - pic by M. Atkinson
I expect I may be handed a prison sentence of up to 28 days (or "community payback"?) as I do not intend to pay the fine or costs. I have never been to prison before. Any support inside and outside the court building (from 1.30pm) would be welcome. Bring banners!
Address: Highbury Corner Magistrates' Court (Courtroom 95), 51 Holloway Road, London N7 8JA (Map:

http://tinyurl.com/yeq8q9t
- nearest tube: Highbury and Islington)
You can read a press release from the original action here:

http://portland.indymedia.org/en/2007/08/363054.shtml
You can read a report of my trial at Newbury Magistrates' Court in March 2008 here:

http://www.indymedia.org.uk/en/2008/03/393416.html
You can read extracts from my letter to the court of 7 December 2009, explaining why I won't cough up, below.
*Cheap plug for Aldermaston Big Blockade, February 15th*
Just over two weeks to go! This should be a cracking day. Get yourselves down there and block the nukes, or cheer on ya mates!
More details:

http://www.peacenews.info/issues/2516/25161507.html

http://blockawe.blogspot.com

http://www.tridentploughshares.org/article1577
*Cheap plug for Footprints for Peace Walks*
After three long anti-nuclear walks in Europe over the past three years, from Dublin to London in 2007, from London to Geneva in 2008 and from Geneva to Brussels in 2009, this year Footprints for Peace will walk from the Y-12 nuclear weapons complex in Oak Ridge, Tennessee to the United Nations in New York, starting on 11 February and arriving on 1 May, in time for the five-yearly Nuclear Non-Proliferation Treaty (NPT) Review Conference.
More details of the NPT walk can be found here:

http://footprintsforpeace.tripod.com/E10/NPT/npt_walk.htm
A walk in Scotland is also planned in the summer:

http://footprints.footprintsforpeace.net/scotland/scotland_peace_walk.htm
Peace,
Dan Viesnik
Letter to Highbury Corner Magistrates' Court, 7 December 2009:
Dear Sir / Madam,
I write in regard to outstanding penalties totalling £515 (imposed on 7 March, 2008) which have been transferred to London North West and North Courts from West Berkshire Magistrates' Court. I have been advised by the Administration Team of the Central Accounting Office, HMCS London in their letter of 18 November 2009 to communicate with this Court directly.
As previously stated in writing to the respective fines offices, I have given the matter plenty of consideration and have thus arrived at the decision that as a matter of conscience I shall not pay the outstanding sum, either as a lump sum or by instalment. My wholly unnecessary, disproportionate and unjust prosecution, conviction and penalty for "obstructing the highway" arose from my participation in an entirely peaceful symbolic sit-down protest in opposition to what I consider to be the illegal, immoral and criminally irresponsible maintenance and development of weapons of mass murder and destruction, namely Trident nuclear warheads, and supporting infrastructure at the Aldermaston atomic death factory (also known as Atomic Weapons Establishment) in West Berkshire. The event in question took place on 27 July, 2007 as I walked nearly 900 miles from Dublin to London via Belfast and Glasgow for a nuclear-free future with an international group called Footprints for Peace. I was doing nothing more that day than peacefully carrying out my moral duty to protect humanity and life on planet Earth from the grave threat of nuclear annihilation and radiation exposure. My strength of feeling on this issue is such that I am prepared to face imprisonment rather than pay the fine, despite never having experienced prison before. I initiated a case-stated appeal to the High Court against my conviction, but eventually withdrew for reasons that do not concern this Court. In my experience the courts in general appear to be deaf to arguments of morality, conscience and common sense, especially in politically-sensitive cases such as this, with the result that true justice is often sacrificed in favour of appeasing the Establishment.
------------
Thanking you kindly in advance for your patience and understanding. I anticipate that I shall soon be brought before the Court at which time I may be committed to prison, so I shall prepare myself mentally for such an eventuality. Please use the above address for any further correspondence.
Yours sincerely,
Mr Daniel Viesnik
Images are CopyLeft and may be reproduced free of charge for non-commercial use. Please credit any use.
Dan Viesnik


e-mail: vd2012-imc [at] yahoo.co.uk

06.02.2010 08:27
...as of yesterday (Friday). Thanks for the messages of support.

See you at Aldermaston on 15th February!
htto://blockawe.blogspot.com


Dan Viesnik


e-mail: vd2012-imc [at] yahoo.co.uk

---