bank advisory service | 28.11.2009 15:48 | Smash EDO | Anti-militarism
Activists held a demonstration outside the brand new branch of Barclays Bank in Hope Street, Wrexham this morning in solidarity with Smash EDO's Target Barclays Campaign. Barclays have located their shiny new 'shop front' branch, at a cost of more than £1 million, in a pedestrianised area with some very useful railings right in front of the doorway, just perfect for mounting a visual display to make the point about Barclays' links with the global arms trade.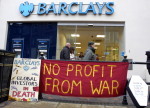 Redecorating Barclays' brand new shop front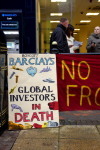 Boycott Barclays - Global Investors in Death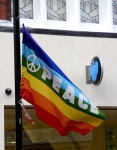 Barclays invests in ATK, which makes parts for Trident nuclear missiles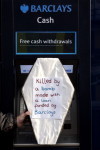 Barclays provides cash for bombs
SMASH EDO - TARGET BARCLAYS
Smash EDO writes: "Barclays Banks are the New York Stock Exchange (NYSE) market maker for ITT Corporation. ITT Corporation own EDO MBM/ITT in Brighton. There has been a five year long campaign of direct action against EDO MBM/ITT aimed at persuading them to stop producing weapons components in Brighton. EDO's components are used by the US and UK in Iraq and Afghanistan and Israel in Palestine. As ITT's market maker, Barclay's acts as a 'middle man', purchasing shares from a seller and holding them until such a time as a buyer becomes available. This ensures the stability of ITT's share price by allowing shareholders to sell off their assets at any time, even when a a buyer is not immediately available, and vice versa. Barclay's also profits from this enterprise by selling ITT's shares at a small markup, which nevertheless generates a considerable income when spread across large sales."

http://www.smashedo.org.uk/target-barclays.html
SOLIDARITY ACTION IN WREXHAM
Hundreds of leaflets entitled 'Have you thought about banking at Barclays?' were handed out to customers and passers-by outside the bank in Wrexham this morning. The leafleters were definitely not in the Barclays corporate mould, but nevertheless quite a few people tried to return their leaflets: 'I'm already with Barclays, thank you.' All the more reason to read the leaflet then, which outlined Barclays' complicity in war crimes through services provided to ITT, loans made to arms companies, desperately poor countries and ne'er-do-wells like Mugabe, and its extensive investments in the global arms sector.
Readers were urged to close Barclays accounts, write to Barclays, demand disinvestment in the arms trade, demand that Barclays stops providing 'market maker' services for ITT, and to ask friends and family to do the same.
"Well, well!" said one woman after reading the leaflet. "They don't tell you all this when you open an account, do they?"
A lone cop turned up at one point, ostensibly to warn all the banks in the area of a 'bomb threat'. The bank manager asked him to remove the pesky protesters, but he declined.
Wrexham MP Ian Lucas, Minister for Business and Regulatory Reform (reform towards fewer controls on dodgy deals, presumably), along with fellow Labour Welsh Assembly Member for Wrexham, Lesley Griffiths, were the 'celebrity' guests at the opening of the new Barclays branch a few weeks ago. The leaflet also suggested that people might like to ask Ian and Lesley some searching questions about their support for the company.
Ian and Lesley can be contacted at

lucasi@parliament.uk
and

lesley.griffiths@wales.gov.uk
.
It seems improbable that Ian Lucas, MP, would have responded so quickly to our concerns about Barclays, still less realise the error of his ways and come along to offer his support to the Target Barclays campaign, but when the photographs were downloaded, there was one shot where it really does look like it could be the Minister himself handing out leaflets... :o)
bank advisory service


Homepage: http://www.smashedo.org.uk/target-barclays.html