Free | 28.11.2009 12:00 | Repression | Social Struggles | South Coast | World
The Certain Days calendar project is a joint fundraising and educational project between outside prisoner solidarity campaigners in Montreal and Toronto, and three political prisoners being held in maximum-security prisons in New York State and California: David Gilbert, Robert Seth Hayes and Herman Bell, who between them have spent 100 years in prison. More about them here

http://www.certaindays.org/?q=bios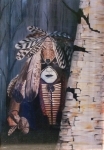 January artwork, by Leonard Peltier, framed American Indian prisoner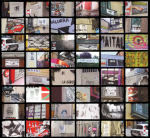 September artwork, by Martin Mantxo, former Bristol street artivist
Each year the calendar has a central theme, this year it focuses on indigenous resistance and political prisoners, of whom there are of course plenty in north America. This fundraising calendar for political prisoners and related projects has 44 pages packed full with beautiful full-colour art and detailed information & links about the prisoners and campaigns. It includes artwork for September by Martin Mantxo, street artist and a co-founder of Bristol's Kebele social centre, now back in his Basque homeland.
Once again Bristol ABC Prisoner Support group is helping to distro the calendar in the south west and across the UK, along with Natterjack Press, in a gesture of international solidarity to help these projects, and to raise the profile of the cases and the inherently unjust repression many communities and individuals face. You can get a copy of the calendar from:

http://bristolabc.wordpress.com/2010-calendar/
and

http://www.natterjackpress.co.uk/
Funds raised by the project will be distrubted amongst these three groups:
New York State Task Force On Political Prisoners – fighting to win the release of political prisoners in New York state's prisons.
Addameer (Arabic for conscience) – supports Palestinian prisoners and advocates for their human rights.
Olympic Resistance Network (ORN) – Legal defense for anti-2010 winter Olympics campaigners, active under the slogan of 'No Olympics On Stolen Land'.
You can read all about the project and the beneficiaries, view the artwork and writings, and see an archive here

http://www.certaindays.org/
If you are interested in supporting political prisoners and campaigns against the growing prison society around us, and live in the south west, then get in touch, or come along to these upcoming events:
5 December - benefit gig in Bristol. Full details

http://www.bristol.indymedia.org/article/691379
9 December - letter-writing to prisoners session. Details here

http://www.bristol.indymedia.org/article/691480
We need more solidarity with political prisoners in 2010 until all are free!
Thanks
xxx
Free


e-mail: bristol_abc@riseup.net


Homepage: http://bristolabc.wordpress.com/2010-calendar/