Liberationists | 22.09.2009 02:33 | SHAC | Animal Liberation | Ecology | Social Struggles | South Coast | World
17th-21st September
ALF WELCOME ANDREW BAKER TO TOWN (UK)
CIRCUS SIGNS DESTROYED (Germany)
RABBIT FARM ADVERT TORN DOWN (Italy)
MEAT TRUCK COVERED IN PAINT (Spain)
HUNTING PLATFORM DESTROYED (UK)
MEAT SHOPS GLUED (Mexico)
LETTERS SENT TO HLS-LOVING SCUM (UK)
MEAT COMPANY VAN DESTROYED (Italy)
ROOSTER LIBERATED (Mexico)
TWO FUR FARMS FOUND ABANDONED (Italy)
EMPTY CAGES AT FUR FARMS (Germany)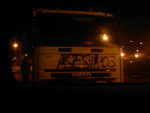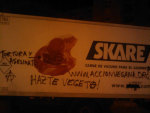 MEAT TRUCK COVERED IN PAINT (Spain)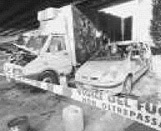 MEAT COMPANY VAN DESTROYED (Italy)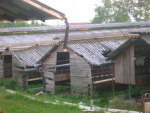 ALF WELCOME ANDREW BAKER TO TOWN (UK)
anonymous report:
"Whilst HLS spiral towards financial ruin, Andrew Baker thought it was a good time to buy a huge new residence in the UK.
The address of Baker's new house is:
[...]
Slogans such 'Andrew Baker, Puppy Killer', 'Andrew Baker, Parish House, Hook Hill out of our village' and 'Kick Andrew Baker out of town' were daubed in prominent locations throughout Timsbury.
ALF"
[...] Personal details removed as per:

http://www.indymedia.org.uk/en/static/privacy.html#Personal_Information
>>
CIRCUS SIGNS DESTROYED (Germany)
received anonymously:
"frankfurt and rhine-main area, germany
- rhine-main area, weekend of 20th september: in an action against
circus 'fischer' we took down and destroyed about 45 of their signs.
- frankfurt, earlier this year: we took down and/or cut in pieces about
50 signs of circus 'barelli'.
both circuses imprison and force beautiful animals to perform stupid
tricks for stupid people. as long as you have animals in your shows we
will attack you.
be warned circus scumbags: we are getting faster and more effective
everytime we are out there.
a.l.f."
>>
RABBIT FARM ADVERT TORN DOWN (Italy)
anonymous report:
"LAZIO (ITALY) We broke down a wood frame more 2 metres high with an advertising board of a rabbits farm. Destroyed poles, taken away the board, teared a plastic coated banner in pieces. In little time a damage of hundreds of euros"
>>
MEAT TRUCK COVERED IN PAINT (Spain)
anonymous report:
"Tonight we found a truck from the killing industry. We thought, as anarchists and vegetarians, that we should decorate it and make their 'work' today impossible. So we painted it completely, the windows and mirrors too. Doing this we remember our comrade Fabian, deported last thursday from Málaga to Buenos Aires, and the anarchist prisoner on hunger strike, Amadeu Casellas. Also we wanted to share a website that we think is cool.
We send all of our support from the south of Europe to the Earth Liberation Front, A.L.F., and all anarchist prisoners... and we will continue the fight until all are free!!!"
>>
HUNTING PLATFORM DESTROYED (UK)
reported anonymously:
"with a few good kicks a platform used to shoot wildlife from was put out of action in Gloucestershire. we will be back to check you don't put up a new one."
>>
MEAT SHOPS GLUED (Mexico)
anonymous report (translation):
"We went out full of rage, once again in Colima, during the early morning hours of September 16, to sabotage the evil 'graveyards' of animals. The sabotage was gluing 7 meat markets and 5 poultry shops. A message was left at two of the shops, below their shutters, using gasoline and a lit piece of cardboard 'meat is death.' Everything went perfectly; once again we carried out small acts of sabotage which are constantly happening to end this murdererous speciesism.
Animal Liberation - Human Liberation! Total Liberation!
Espina de Rabia [Thorn of Rage] (Colima, Colima).
Re-evolution!"
>>
LETTERS SENT TO HLS-LOVING SCUM (UK)
reported anonymously:
"Letters have been posted to several directors of HLS's main customers. We hope your families dont open the mail first.
Militant Forces Against HLS."
Previous actions:

http://www.scroogle.org/cgi-bin/nbbw.cgi?Gw=%22militant+forces%22+OR+%22mfah%22+site%3Adirectaction.info&n=1
>>
MEAT COMPANY VAN DESTROYED (Italy)
anonymous report:
"24th August, Reggio Emilia, Italy.
Reported by local media. An arson has destroyed a meat van of AIA group.
An incendiary device was ignited under the van.
Attached is a photo taken from a newspaper.
A.L.F."
>>
ROOSTER LIBERATED (Mexico)
anonymous report (translation):
"On the 15th of this year, Efecto Mariposa [Butterfly Effect] acted again!
In opposition to evil anthropocentrism, we decided to act in full daylight.
With nothing to stop us, we went into a backyard where they were exhibiting our animal brother!
Tied up by one leg, enduring the rain and cold of that afternoon, we decided to take our brother, despite being seen by neighbors, giving him the freedom that we all deserve.
Unfortunately, there was another rooster, but due to the fact that he was inside the house, he could not be freed. This shows that this was not a robbery, as anthropocentrics may have believed it to be; this was a rescue like so many that have already occurred!
For all those who remain caged!
Animal Liberation!
Human and Earth!
Health and revolution.
Efecto Mariposa (león gto.)"
>>
TWO FUR FARMS FOUND ABANDONED (Italy)
reported by activists in Italy:
"August 2009
The Animal Liberation Investigation Unit (ALIU) announced the final closure of 2 mink farms in Italy.
- The De Nardi farm in Vittorio Veneto (TV) was found locked and long abandoned. Instead of mink in the sheds, some sheep roam.
We entered the farm at nightfall and we found some cages with birds inside.
Although our aim was only to document the closure of the farm, we could not leave these beautiful animals locked in tiny cages, so we smashed the cages and watched the birds fly away.
De Nardi until a few years ago was president of the Italian Mink Farmers Association.
(click here for additional photos from the De Nardi farm:

http://www.finoallafine.info/denardi01.htm
)
- The Anipel mink farm in San Martino Buon Albergo (VR) is finally closed. All cages and sheds are empty. Some sheds were being dismantled and cages were stacked outside along with a truck for sale.
The walls of the sheds still have messages painted by activists who previously visited this farm, and the building that houses cold storage and warehouses has no roof, which was probably destroyed in the fire of 2006*.
A dozen dogs are still confined on the grounds of the farm."
(click here for additional photos from the Anipel farm:

http://www.finoallafine.info/anipel01.htm
)
*

http://www.directaction.info/news_june17_06.htm
>>
EMPTY CAGES AT FUR FARMS (Germany)
The anti-fur network Offensive gegen die Pelzindustrie has announced that three fur farms in Germany have closed down, farms that until recently imprisoned thousands of mink.
Among the farms was one near the city of Melle that was visited by the A.L.F. in January 2007 when hundreds of empty cages were destroyed*. The farm never rebuilt following the action.
*

http://www.directaction.info/news_jan30_07.htm
>>
Related articles
Global

http://www.indymedia.org.uk/en/2009/09/438098.html
(17th)

http://www.indymedia.org.uk/en/2009/09/437762.html
(10th)

http://www.indymedia.org.uk/en/2009/09/437389.html
(5th)
UK: Construction site sabotaged

http://www.indymedia.org.uk/en/2009/09/437988.html
(14th)
More information

http://www.animalliberationfront.com
Liberationists


Homepage: http://DirectAction.info