Peter Marshall | 15.09.2009 09:29 | Anti-racism | Palestine | Repression
Around two thousand supporters of Palestine, mainly Muslims, took part in the annual Al Quds Day march and rally in London on Sunday. There were small protests by some Iranian groups and racist abuse from a few the English Defence League and March For England, but no serious incidents. Photos Copyright (C) 2009, Peter Marshall, all rights reserved.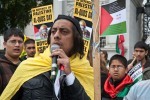 At the start of the march at Marble Arch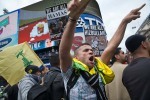 Defiant gestures by marchers at counter-demonstrators
he annual Al Quds Day (Jerusalem Day) march in London has aroused increasing controversy over the years, and was met by several small counter-demonstrations from individuals along the route and several small groups of protesters at Piccadilly Circus. After a series of violent clashes at anti-Islamic demonstrations involving right-wing groups, most recently outside the Harrow mosque on Friday, police were prepared for trouble when these groups, including the English Defence League and March For England, called on their supporters to gather and protest against this march.
Other protesters included Iranian democrats, royalists and socialists, particularly incensed at the recent rigged election results in Iran and the demonstrations that followed, with Neda Agha-Soltan being killed and others who died in jail.
Although Al Quds Day was initiated by Ayatollah Khomeini when he became Supreme Leader of Iran in 1989 as a day on the last Friday of Ramadan (the London march is on the following Sunday) to oppose the Israeli occupation and control of Jerusalem, and several of more prominent groups leading the demonstration in the UK have links with Iran, the event has support from a wide range of organisations including the Muslim Council of Britain and the Respect Party.
Several thousand marchers left Marble Arch, led by Muslim clerics and two Neturei Karta anti-zionist Jewish leaders. Before the march there was an announcement that although as usual women would march in the centre, led and followed by the men, it was also made clear that those who wanted to march as families were welcome to do so, and many, particularly the younger marchers, took advantage of this.
Along the route people chanted the familiar slogans, which were printed for convenience on the small Palestinian flags many of the marchers carried, calling for an end to the occupation of Palestine and Israeli violence. Some carried pictures of the Israeli atrocities of the war in Gaza and there were calls for the end of the building of illegal settlements on occupied territory. One of the main messages was for people to support the boycott of Israeli goods, which appears to be having a real effect.
At Piccadilly Circus, the police had erected a large pen for the counter-demonstrators, which would have held at least twenty times the small number there, and it was ringed by several times as many police as protesters. Surprisingly photographers told me police simply watched and refused to take action when they were assaulted and pushed out from the pen by the hooligans there. Some of these also refused to be penned, and police followed several groups who left around the area. I saw four young men being stopped near Hyde Park corner and one was questioned and searched while he hid under his jacket before they all ran off away from the demonstration.
As the demonstration passed the waiting groups in Piccadilly Circus there was considerable shouting from both sides, but police kept the march to the opposite carriageway and together with march stewards, held back marchers eager to go and confront the opposition. Another row of police - in places a double row - kept the protesters behind their barrier and held photographers a short distance back. As well as shouting insults at the Muslims, they were also making threats, gestures and shouting at the photographers, and I was glad not to be too close although the police bodies made taking pictures difficult.
The police had also insisted that the march not continue to Trafalgar Square for the rally as in previous years. In view of the small number of counter-demonstrators, this was perhaps an unnecessary precaution, but the crowded venue in Waterloo Place did give the event a greater intimacy than it would otherwise have had. Among the speakers before I had to leave were Roland Grant, Taji Mustafa of Hizb ut-Tahrir Britain, Yvonne Ridley of the Respect Party and Neturei Karta Rabbi Ahron Cohen.
More pictures with this report on Demotix:

http://www.demotix.com/news/london-al-quds-march-meets-small-protests
and I'll post considerably more on My London Diary in due course.
Peter Marshall


e-mail: petermarshall@cix.co.uk


Homepage: http://mylondondiary.co.uk