Anok | 14.09.2009 13:42 | Repression | Social Struggles | Workers' Movements | World
A couple of dozen people picketed the Serbian Embassy in London on Friday lunchtime 11th September. Not bad at such short notice. Members of SF and FAU (German IWA Section) were supported by London Anarchist Federation, libertarian students' group Autonomy & Solidarity and others.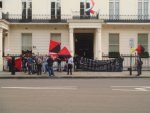 Anarchists picket Serbian Embassy in London, Friday September 11th 2009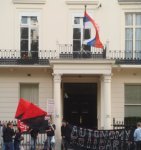 Anarchists picket Serbian Embassy in London, Friday September 11th 2009
Embassy staff were a bit startled but took a keen interest in proceedings, and the police harassment started after we'd been outside the embassy for about half an hour. First the Diplomatic Protection Group – all wearing badges showing their support for the roadside-bomb-fodder in Afghanistan – first told us the demonstration was illegal and we should disperse; then they said it was "a public order situation" in spite of our being relaxed and peaceful; then they claimed we were obstructing the pavement in spite of the almost total absence of pedestrians and told us to cross the road (to a narrower stretch of pavement people were actually walking along). We rotated people arguing with plod as he kept changing his arguments and eventually he retired to talk to his bosses. By that stage there were six armed officer present.
We handed in a letter of protest – the door opened immediately and it was accepted. After another half hour the regular Met turned up, only one, with a Community Support Officer – plastic plod – in tow. We then became a "security risk" because apparently by standing outside the embassy we could provide cover for unspecified criminal activities. Then eventually it came down to the alleged likelihood of our committing criminal damage. Plod's "reasonable grounds for suspicion" constituted the fact that an act
of criminal damage during the Belgrade picket of the Greek Embassy was mentioned in our leaflet! This was exposed as an obvious ploy when Plod became impatient and dropped the act, threatening us all with being searched unless we crossed the road. We continued arguing while drifting over the road, having achieved what we had set out to do. We stayed to 2 O'Clock, forcing Mr Plod and Mr Plastic (who looked like a building contractor with his bare head and yellow safety jacket) to guard the embassy from the heinous threat of handing in letters until we left.
About four police hours were expended during the course of the demonstration,
plus report writing. Result.
Anok


Homepage: http://asi.zsp.net.pl/protest-in-london/