Liberationists | 22.08.2009 19:42 | SHAC | Animal Liberation | Ecology | Social Struggles | World
20th-21st August
CLAIM OF RESPONSIBILITY FOR GRAVEYARD VISIT (Switzerland)
100,000+ EUROS DAMAGES AT HOME OF FUR FARMERS (Italy)
CAR VANDALIZED AT NOVARTIS MEXICO (Mexico)
WARNING SENT TO NOVARTIS (Mexico)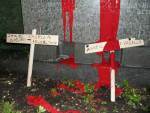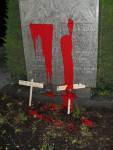 CLAIM OF RESPONSIBILITY FOR GRAVEYARD VISIT (Switzerland)
CLAIM OF RESPONSIBILITY FOR GRAVEYARD VISIT (Switzerland)
received anonymously:
">>Location: Friedhof Hof, Chur, Switzerland>>Target: Daniel Vasella [15.08.1953], lives in Risch>
100,000+ EUROS DAMAGES AT HOME OF FUR FARMERS (Italy)
photo: Corriere del Veneto
Local media have reported an arson at the home of Paolo and Silvano Fasolo, the owners of a mink farm near Padova. The fire destroyed a van, two cars and a tractor, and damaged machinery and buildings on the property. Damages are estimed to be at least 100,000 Euros.
Animal liberation activists are suspected of setting the fires. The fur farm had previously been targeted; in June 2006* a fire destroyed a building at the farm.
*

http://www.directaction.info/news_june09_06.htm
>>
CAR VANDALIZED AT NOVARTIS MEXICO (Mexico)
anonymous report (translation):
"August 19:
The sunroof, roof, glass, hood, security system, doors and other parts of one of the luxury cars belonging to the executives of Novartis were sprayed with red paint in Mexico City.
That car was found in the private parking lot of the animal-torturing company.
With this action in broad daylight we want to show that the threatening words in our email sent to Novartis Mexico are not lies.
Sabotage, until they break with HLS!
ALF México"
>>
WARNING SENT TO NOVARTIS (Mexico)
received anonymously (translation):
"On Monday, August 17th we sent a small message of intimidation to one of the transnational pharmaceutical torturers and killers of animals recently attacked in other countries. The message sent to their headquarters in Mexico City was:
'Recently, employees and executives from your filthy company were attacked in Germany, Belgium and France, and threatened in Italy; the director of Novartis had his home burned in Austria and the grave of his mother was desecrated in Switzerland; all this so that you cut your ties with the laboratory HLS.
What are you waiting for? Maybe you will decide to when we burn your employees' cars, or threaten the people who work at this shitty company, or when they are leaving or when they arrive and find a huge police mobilization after a bomb is placed in front of this property.
The spilled blood of innocent animals in your laboratories will be avenged; with your tears and your own blood you'll pay for it.
We warn you that this is not a game. We speak seriously; now you know who to blame when these and other things happen here at Novartis.
Animal Liberation Front/Frente de Liberación Animal (ALF/FLA México)'
ALF México"
>>
Related articles
UK

http://www.indymedia.org.uk/en/2009/08/436662.html
(RBS glued shut, 21st)

http://www.indymedia.org.uk/en/2009/08/436368.html
(Barclays targeted, 17th)

http://www.indymedia.org.uk/en/2009/08/436088.html
(HSBC attacked, 12th)
USA: Arson Attack Destroys 22 Luxury Apartment Buildings

http://www.indymedia.org.uk/en/2009/08/436613.html
(21st)
Mexico

http://www.indymedia.org.uk/en/2009/08/436563.html
(Eco-Anarchists Attack, 20th)

http://www.indymedia.org.uk/en/2009/08/436314.html
(ELF Torch Water Truck, 16th)

http://www.indymedia.org.uk/en/2009/08/435737.html
(ELF Sabotages Telmex, 6th)
Global

http://www.indymedia.org.uk/en/2009/08/436560.html
(20th)

http://www.indymedia.org.uk/en/2009/08/436193.html
(13th)

http://www.indymedia.org.uk/en/2009/08/435672.html
(5th)

http://www.indymedia.org.uk/en/2009/08/435564.html
(3rd)
Austria: Novartis CEO's hunting lodge destroyed

http://www.indymedia.org.uk/en/2009/08/435773.htmll
(7th)
More information

http://www.animalliberationfront.com
Liberationists


Homepage: http://DirectAction.info