Tim Dalinian Jones | 06.08.2009 13:48 | Climate Chaos | Energy Crisis | Workers' Movements | South Coast
Dateline: Roof-Top Occupation, Vestas Venture Quays Workshop, East Cowes, Isle of Wight, UK, Wed 05 Aug 09 – Before Vestas Wind Systems were handed an eviction order against the 15-day-old Newport turbine blade factory occupation, five climate activists, including an RMT member, occupied the roof of Vestas' harbour-side facility. With tents set up, plenty of food, and an uninterrupted supply-line to supporters and well-wishers, this solidarity occupation is set to run indefinitely. The London Workers' Climate Action crew stopped off on their journey home to resupply, cheer on and photograph our climbing-savvy comrades.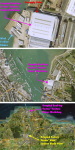 A2. Roof-Top Occupation Location, including the Resupply Point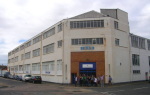 B1. Vestas' buggered-about 30s industrial modernism + WCA London posse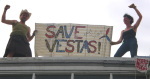 B2. Magnificent Climate Militants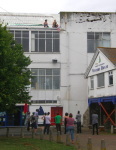 B4. Hauling Up Supplies at the Resupply Point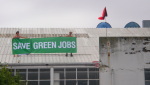 B6. Climate Camping on the Roof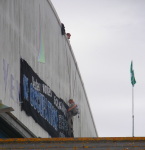 B7. Climbing Down for Morning Banner Maintenance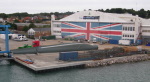 C1. 'Butcher's Apron' paint job, and 40 m wind turbine blades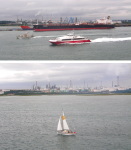 C3. Oil power, wind power, and industrial-scale environmental consequences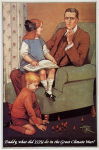 C4. Act in Solidarity Now – recount tales of our victories at your leisure
Vidz at YouTube
• Vestas Roof-Top Occupation
» LINK to follow shortly once editing & uploading is complete
At around 04:00 on Tue 04 Aug 09, four Climate Campers and an RMT member ascended a rear roof-access ladder on to the roof of Vestas' vast Venture Quays workshop building in East Cowes on the Isle of Wight. Aircraft hanger like in scale, the massive front doors, which open on to the wharf, are painted in the red, white and blue design known to the victims of British imperialism as 'The Butcher's Apron'. But above the flag, there now appears a huge banner, secured in place with the help of climbing gear, which reads:
Vestas Workers SOLIDARITY – IN OCCUPATION – FIGHT FOR GREEN JOBS
Placement in spacetime could hardly be bettered – as the 'Zooming in to East Cowes' sequence shows above (C2), visitors arriving from Southampton at the ferry port simply cannot miss it. And timewise, Cowes Week runs Sat 01 to Sat 08 Aug 09, "when 8,500 competitors and more than 100,000 spectators converge on Cowes for the largest sailing regatta of its kind in the world" (or so says the Illustrated London News Ltd's 'Island Visitor' magazine).
As the Workers' Climate Action minibus in which our team of Vestas Occupation supporters was returning to London arrived early for our ferry, we had enough time to get a shopping list from the Roof-top Occupiers. The provisions were hauled up on a rope at the Resupply Point, shown in pix A2 and B4 above – and I loaned them by self-inflating camping mattress, to help ensure more restful sleep at night. So if you can help out with resupplying or increasing the comfort our Roof-top Occupiers (as a local female cleric has apparently pledged to do), head for the corner of Columbine Road and Albany Road and ask how you can help.
"We are still up here and will stay for as long as the workers stay in Newport. It is uncomfortable but not as uncomfortable as losing your job. We have seen good local support and are getting more banners put up today. We have been told to come down on safety grounds but apart from everything being at an angle, due to the slope of the roof, everything has been fine."
~ Martin Shaw, 44, Roof-top Occupier, Wed 05 Aug 09
» quoted in 'Night on roof for sit-in support' –

http://news.bbc.co.uk/1/hi/england/hampshire/8184934.stm
For some of the best news coverage of the twin Vestas Occupations, including recent Roof-top and Factory Occupation phone interviews, check out the VentnorBlog:
• Vestas Sit In Stories
»

http://ventnorblog.com/topic/vestas-sit-in/
Whatever Next?
Thu 06 Aug 09
• LONDON – Dept of Energy & Climate Change, 3 Whitehall Place, Rally, 18:30, organised by CACC
Fri 07 Aug 09
• SOUTH LONDON – Sayes Court Club House, 341 Evelyn Street, Deptford SE8 5QT, 15:00, Picket Climate Change Minister Joan Ruddock, tel: 07 951 450 370, followed by discussion about building for Wed 12 Aug Day of Action
• LONDON to NEWPORT – A minibus (or two!) will be leaving London on Friday evening from Clapham at 18:00 heading for Vestas, returning on Sunday – and will deliver a boost in numbers and energy to the fight to save jobs and save the planet! Cost between £10-£15 a head (or a bit more if you can afford to subsidise others), tel: Bex 07 971 719 797, email:

vestasvolunteers@riseup.net
• CENTRAL LONDON – "Right to work" meeting with Seb from Vestas Occupation, 18:30, Kings Cross site of SOAS, Vernon Square, Penton Rise, WC1X 9EW
Sat 8 Aug
• MANCHESTER – Market Street, 13:00, Street Stall; 15:00, March from Market Street to Piccadilly Gardens for a Rally, tel: Hugh 07 769 611 320
Wed 12 Aug
• Vestas Workers have called for a National Day of Action on Wed 12 Aug 09.
• LIVERPOOL – Casa (the dockers' pub), 29 Hope St, 19:00, RMT, Dockers and Merseyside TUC Meeting to set up Solidarity Campaign, tel: 0151 709 1786 / 07 940 244 718 / 07 930 870 934, email:

j.tilley@rmt.org.uk
Sat 19 Sep
• LOCATION TBC – 12:00-18:00, Workers' Climate Action Conference
In the event that the Factory Occupiers are evicted...
• BRISTOL – Demonstrate 17:30 same day at Bristol fountain
• MANCHESTER/WARRINGTON – Demonstrate 17:00 in Piccadilly Gardens and Protest at 20:00 the following day at Vestas HQ in Warrington
Links
• Save Vestas Campaign
»

http://savevestas.wordpress.com
• East Cowes rooftop demonstration in support of Vestas' staff, by Will Carson, Southern Daily Echo, Tue 04 Aug 09
»

http://www.dailyecho.co.uk/news/4527424.Rooftop_protesters_there__for_the_long_haul_/
• "Boys On the Balcony"
• Written and recorded by Seize the Day & workers and families from Vestas
» free download –

http://www.seizetheday.org/?download=true
– MP3, 5.7Mb
Express YOUR Solidarity with the Vestas Workers Occupation
When your kids, grandchildren, nephews, nieces, etc. ask you, "What did YOU do in the Great Climate War?", here are the things you can tell them about that YOU did to aid this struggle.
1. Go There: Join the Vestival solidarity camp on the "Magic Roundabout" at the factory gates
» Travel board –

http://savevestas.wordpress.com/travel-noticeboard/
2. Mutual Aid: Let's put OUR Money where our Mouth Is – Donate to the Save Vestas Campaign
» By PayPal: from the campaign home page –

http://savevestas.wordpress.com
» By Cheque: payable to 'Ryde and East Wight Trades Union Council', 22 Church Lane, Ryde, Isle of Wight, PO33 2NB
3. Tell Vestas: Feed Them Properly!
This report from the Guardian

http://www.guardian.co.uk/environment/2009/jul/30/vestas-factory-workers-food-union
and Luke Paxton's interview on BBC

http://news.bbc.co.uk/1/hi/england/hampshire/8177197.stm
present a grim picture of the food situation for the workers occupying the plant. Congratulations to those who got some food in today, but we also need to put maximum pressure on the company to stop… starving our boys!
• Email/telephone Vestas with a simple message: feed the Vestas occupiers properly or keep receiving these emails/telephone calls. There are Vestas offices all over the world:
»

http://www.vestas.com/en/about-vestas/find-vestas.aspx
• Starting close to home, here are the details for Warrington, Vestas' UK HQ:
» Email:

vestas-celtic@vestas.com
» Tel: 01 925 857 100
• Vicki sent an email to these addresses – please join her, by copy-&-pasting the following to a "To:" field in your email app:
»

vestas@vestas.com
,

vestas-americas@vestas.com
,

vestas-argentina@vestas.com
,

vestas-brazil@vestas.com
,

vestas-australia@vestas.com
,

vestas-newzealand@vestas.com
,

vestaschina@vestas.com
,

vestas-india@vestas.com
,

vestas-asiapacific@vestas.com
,

vestas-japan@vestas.com
,

vestas-korea@vestas.com
,

vestas-austria@vestas.com
,

vestas-france@vestas.com
,

vestas-centraleurope@vestas.com
,

vestas-hellas@vestas.com
,

vestas-italia@vestas.com
,

vestas@vestas.nl
,

vestas-poland@vestas.com
,

vestasiberia@vestas.com
,

vestas-mediterranean@vestas.com
,

vestas-northerneurope@vestas.com
,

vestas-mediterranean@vestas.com
,

vestas-celtic@vestas.com
4. Moral Boosting: Communicate YOUR Solidarity
» Send messages of support from yourself and/or your organisation to

savevestas@googlemail.com
» Organise a visible demonstration of solidarity, take a photo with a placard that reads "Save Vestas" and email the photo to

savevestas@googlemail.com
5. Do The Right Thing: Try to get "New" Labour in Ministries to back Real Labour in Struggle
• Petition UK Prime Minister Gordon Brown online via the petitions.number10.gov.uk website – very quick-&-easy:
»

http://petitions.number10.gov.uk/SaveVestas/
• Petition energy minister Ed Miliband – flood him with calls for the Government to take over the Vestas factory and keep it producing, under new management
» sample message: It's "Money Where Mouth Is" time for UK Wind Turbine Manufacturing

http://dalinian.pbworks.com/It%27s-%E2%80%9CMoney-Where-Mouth-Is%E2%80%9D-time-for-UK-Wind-Turbine-Manufacturing
» Ed's email –

ps.ed.miliband@decc.gsi.gov.uk
» Ed's Doncaster constituency – 01302 875 462
» Ed's Westminster number – 020 7219 4778
• Call on the UK Secretary of State for Business, Innovation and Skills Lord Mandelson to save wind energy jobs
»

http://www.foe.co.uk/campaigns/climate/press_for_change/vestas_petition_20414.html
Please do all you can to help win a victory for the Vestas Workers occupations – for humanity and our biosphere.
Up the Revolution,
Tim Dalinian Jones
All these photos and video clips are 'CopyLeft'
This means you are free to copy and distribute any of my photos and videos you find here, under the following license:
• Creative Commons Attribution-Noncommercial-Share Alike 3.0 Unported License
»

http://creativecommons.org/licenses/by-nc-sa/3.0/
» Accreditation:

tim.dalinian.jones@gmail.com
NB: These pix are edited and downsized versions (up to 800x800px, 0.64Mpx, typically 100-900 KB) for onscreen display. If you would like the free, edited, full-sized versions (up to 3072x2304px, 7.1Mpx, typically 1-2 MB) for print, poster, placard, banner, etc, please email your request to tim.dalinian.jones [at] gmail.com quoting the picture title(s) you'd like.
Tim Dalinian Jones


e-mail: tim.dalinian.jones@gmail.com


Homepage: http://tinyurl.com/FB-dalinian