Peter Marshall | 03.08.2009 09:27 | Repression | Social Struggles | Workers' Movements | World
Around 40 British and Iranian socialists and trade unionists protested outside the west London studios of Press TV, the English language TV station funded by the Iranian government on Sunday 2 August to highlight the plight of political prisoners in Iran. Photos Copyright (C) 2009, Peter Marshall, all rights reserved.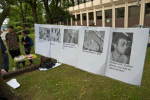 Part of a long line of images hanging opposite Press TV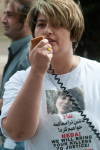 Neda! We will bring your killers to justice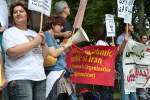 Part of the line of demonstrators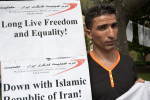 Long Live Freedom and Equality!
The protest at Westgate House overlooking the A40 Hanger Lane roundabout at was organised by Workers' Liberty, the Worker-communist Party of Iran - Hekmatist and The 8 March Women's Organization (Iranian – Afghanistan.) (March 8 is International Women's Day, first celebrated by the Socialist Party of America a hundred years ago in 1909.)
In the June protests in Iran, thousands were arrested and possibly a hundred people killed. Around 750 are still in prison and many have simply disappeared. Show trials of some are now taking place. Amnesty reports that four have died in prison, and torture is routine, with some dying from its effects after release.
Last Thursday there were further protests to mark the 40 days since the killing of protesters including Neda Agha-Soltan, with protesters being beaten, arrested and one reported killed.
Press TV's reporting of the events has been one-sided propaganda in favour of the regime and failed to report the protests when - thanks largely to citizen journalism for Iran - they were headlining other media around the world. The demonstrators expressed their support for journalist Nick Ferrari who resigned his job as a presenter at Press TV and Jeremy Corbyn who withdrew from a program because of the station's biased coverage of the repression in Iran.
Among the demands made in speeches from Iranians and UK supporters in English and Farsi were the unconditional release of all political prisoners and an end to torture as well as the arrest and trial of those responsible for the attacks and killing of protesters. Protesters also called for freedom of speech, a free press and free trade unions and political organisation, as well as equal rights for women in all aspects of life and the abolition of compulsory veiling. There should be a separation of religion from the state and a society where all are free and equal.
Worker-communist Party of Iran - Hekmatist

http://www.hekmatist.com/
The 8 March Women's Organization (Iranian – Afghanistan)

http://www.8mars.com/language/
Workers' Liberty

http://www.workersliberty.org/
More pictures on My London Diary shortly

http://mylondondiary.co.uk/2009/08/aug.htm
Peter Marshall


e-mail: petermarshall@cix.co.uk


Homepage: http://mylondondiary.co.uk